Hand Care for Weightlifters
They're what connect you to the bar, so if your hands let you down, don't expect to get any stronger and don't expect to see three white lights.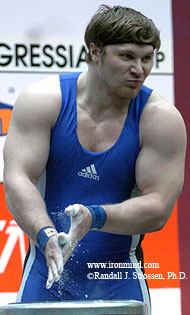 Weighing a little under 122 kg, MILO coverguy Evgeni Chigishev (Russia) chalks up for a crack at a 210.5-kg snatch at the 2005 European Weightlifting Championships (Sofia, Bulgaria). IronMind® | Randall J. Strossen, Ph.D. photo.

No armchair expert, Jim Schmitz is a three-time USA Olympic weightlifting team coach, and his gym, The Sports Palace, was a legend among lifters. Even if you're not lucky enough to know Jim Schmitz in person, here's your chance to benefit from his knowledge, and this month, he'll teach you the basics of hand care, from a weightlifter's perspective.

Follow this link directly to Schmitz on the Lifts or from the IronMind® home page, follow the Training Articles link on the menu bar.