Halkirk Highland Games: Scott Rider Wins Again
Scott Rider faced a strong field at the Halkirk Highland Games and when he beat them all, one can't help but wonder if there might not be another Highland Games World Championships title his future.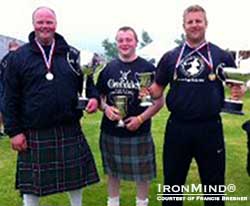 Craig Sinclair (left) was presented with the Clan Gunn Society Cup for Combined Distances in the Hammer, Jamie Gunn (center) was presented with the John Budge Cup for most points confined to Caithness, and Scott Rider (right) was presented with the Andrew Ross Memorial Cup for the most points open and the NNC Cup for the 28-lb. weight-for-distance. IronMind® | Photo courtesy of Francis Brebner.


2013 Halkirk Highland Games: Rider Going Strong
by Francis Brebner

The Halkirk Games in Scotland this past weekend celebrated its 110th Games with one of its biggest fields of international athletes, including Scotland's Craig Sinclair, Jason Young, Stuart Anderson, Murray Gunn, Jamie Gunn, and Sam O'Kane; England's Scott Rider; Belgium's Jimmy Van De Walle; Holland's Hans Lolkema and Wietze Rosier, Australia's Aaron Monks; Poland's Sebastian Wenta and Lukasz Wenta; and from the USA, Michael Dickens and Beau Fay.

A sunny day with strong head winds greeted over 4000 spectators, who packed the Games field, which was opened by the chieftain of the games, Viscount John Thurso, MP of Ulbster. Judging the heavy events were renowned heavy Alistair Gunn and Leslie Oliphant.

The 20-lb. open stone riveted spectators as they watched Rider and L. Wenta go at it round after round, with Rider surpassing the ground record of 49' 8" set by America's Rusty Price in 2011 with a new distance of 52' 2". L. Wenta, second place, also came very close to the ground record with a putt of 49' 2"; brother S. Wenta was in third at 46' 1".

In the 16-lb. open shot, Rider and L. Wenta again went head to head, both smashing the ground record of 55' 10" set by Price in 2011, with Rider notching a second victory and establishing a new ground record of 57'. L. Wenta followed with 56', and in third was S. Wenta at 53' 5".

The 56-lb. weight-for-distance was a win for S. Wenta with a throw of 41'; Rider was hot on his heels at 40' 5" for second place, and Sinclair at 38' 3" for third.

In the 28-lb. weight-for-distance, Rider forged ahead with 83' 2" for the win, with Sinclair in second place with 80' 9" and L. Wenta in third place with 76' 7".

The two events with the light and heavy hammers were contested for the title of the Scottish Championships. First up was the 16-lb. light hammer and after three all-out rounds, the win went to Rider with a throw of 127' 7", followed by Sinclair at 123' 1", with Lolkema pulling off a third place finish of 121'.

In the 22-lb. heavy hammer, noted thrower Sinclair unleashed a series of top-notch efforts, with his best being a whopping 112', which more than secured him the win and the title of Scottish Hammer Champion. Rider took second with 107' 4" and L. Wenta third with 101' 10".

The 56-lb. weight-for-height ended in a tie between Young and Rider at a height of 15' 6"; third equal were Sinclair, L. Wenta, S. Wenta, and Lolkema at a height of 14' 6".

The 20-lb. sheaf toss ended in a tie at a height of 30' between Dickens and Fay. In third was Sinclair at 28'.

The final event with the caber was close, with the win going to S. Wenta with a toss of 12:01. In second was Rider at 12:02 and in third, Lolkema at 12:03. Sinclair was fourth at 11:55.
Top three:

1. Scott Rider
2. Sebastian Wenta
3. Craig Sinclair

#

Want to talk strength? Join the IronMind Forum.

You can also follow IronMind on Twitter and on Facebook.