Halil Mutlu Reportedly Suspended for Two Years
Although an official statement from the IWF is expected shortly, widespread reports have been circulating that three-time Olympic gold medalist Halil Mutlu (Turkey) had tested positive for a banned substance at this year's European Weightlifting Championships.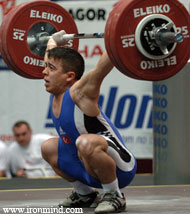 Mutlu hit this 140-kg snatch while lifting in the 62-kg category at this year's European Weightlifitng Championships (Sofia, Bulgaria). IronMind® | Randall J. Strossen, Ph.D. photo.

Now, it is also being widely reported that Mutlu's B-sample was positive, and IronMind® was told that today European TV broadcast that Mutlu has been suspended for two years, which is consistent with a first-time offense under the IWF anti-doping policy.