Halil Mutlu: Easy Win in the 62-kg Category
Sofia, Bulgaria - Barring something extraordinary happening, the only question in tonight's 62-kg category at the European Weightlifting Championships was the size of Halil Mutlu's victory.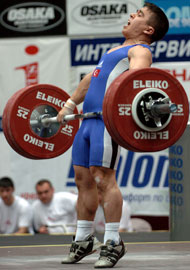 Halil Mutlu (Turkey) at the top of his pull, an instant before reversing directions, with his second attempt in the snatch (140 kg). IronMind® | Randall J. Strossen, Ph.D photo.

Three-time Olympic gold medalist Halil Mutlu (Turkey) moved up to the 62-kg category and he opened with a 135-kg snatch, after everyone else was done, and made it look light. He had been said to be good for about 145 at the moment, but he never exerted himself, making 140 kg on his second attempt and then passing on his third attempt.

Mutlu opened with 165 kg in the clean and jerk, once again making the weight look light, and then Sevdalin Angelov (Bulgaria) made a very nice third attempt with the same weight - particularly impressive since he had to run to the front edge of the platform to save the jerk on his second attempt (162.5 kg). Mutlu had another routine success with 167.5, jerking the weight as if he planned to launch it into space, and then, with three gold medals, he called it a night.

Sevdalin Angelov got the silver medal in the total (132.5/165) and Adrian Jigau (Romania) got the bronze (132.5/162.5).