Hakan Yilmaz Uncorks the Winning Clean and Jerk
Sofia, Bulgaria - He was in eighth place after the snatches, but with just one clean and jerk, Hakam Yilmaz (Turkey) became the 94-kg European Weightlifting Champion today.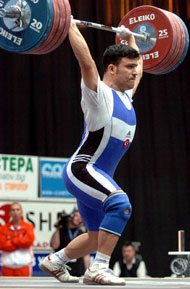 Hakan Yilmaz (Turkey) sticks 215 kg on his opening clean and jerk and that was all it took to catapult him to the gold medal. IronMind® | Randall J. Strossen, Ph.D. photo.

This was a class where getting off to a good start in the snatch didn't end up counting for too much: Pavel Harkavy (Belarus) got off to a great start, snatching 170, 175, and then 177.5 but he only cleaned and jerked 185 kg, and the gold medalist in the total, Hakan Yilmaz, in eighth place, was 7.5 kg behind the leader.

The clean and jerk would change everything, and the final places of the medalists in the total mirrored their finishing order in the clean and jerk.

Things started to heat up in the clean and jerk when Vladislov Yarkin (Russia) took 212.5 to overtake his teammate Andrey Skorobogatov, but as he was holding the bar overhead, he started rotating clockwise. When he had turned a quarter of circle, he right arm blew out. Konstantin Piliyev (Ukraine) missed the same weight on his third attempt. Yilmaz came out and made a solid 215 for his opener, and it took no more when Skorobogatov missed 217.5 on his third attempt,

Skororobogatov got the silver in the total with 170/212.5 and Piliev got the bronze with 170/210, beating Nikolaos Kourtidis on bodyweight.