Hafthor Wins SCL Holland, Claims Leader Shirt
Hafthor Julius Bjornsson—three words that mean Wins in Strongman, as the Icelander took the title and the leader's shirt at the MHP Strongman Champions League–Holland this weekend.  Aryn Lockart called the action for IronMind.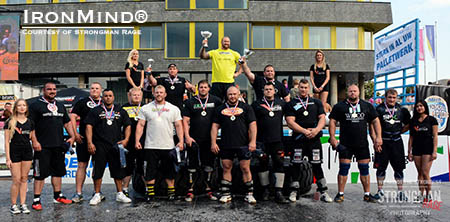 "The 'Mountain is on top, winning MHP Strongman Champions League Holland and claiming the SCL 'Leader' shirt," reported Aryn Lockart.  IronMind® | photo by Strongman Rage


Hafthor Dominates SCL–Holland
by Aryn Lockhart
Strongman Rage

On Saturday in an intense battle at the fifth stage of the MHP Strongman Champions League in Holland, Thor Björnsson claimed the leader shirt from Ervin Katona. Katona has held the leader position since stage one in St. Martinque back in March. Holland was Thor's third consecutive win, tying Zydrunas Savickas for the most wins in a row. With perfect weather, the crowd was pumped to see 14 of the strongest men in the world battle through six events testing their ultimate strength.

"This really changes the game," stated Marcel Mostert, SCL Director. "The competition is fierce at the moment with Katona slipping to second place in the overall standings and Martin Wildauer close behind in third poised and ready to move up in the rankings."

The day started off with the truck pull. Pulling a 14 ton truck with nothing but a harness, athletes dug in. The best time was 40.99 seconds  by Thor Björnsson.

The second event was the log with 150kg for reps. With a slightly uneven surface, the athletes went head to head struggling for each rep. The final results of this event ended with Mikkel Leicht from Sweden and Grzegorz Szymanski, the new polish future,  completing six reps for the win.

The third event was the yoke weighing 420kg. Without the ability to adjust the height of the yoke, this made for a real challenge for the taller athletes. In typical strongman fashion, despite being competitors, Katona worked with Björnsson offering tips to help the giant. In an amazing display of speed and strength the winner of this event was Marius Lalas with 13,87  seconds. Close behind was Jarno Hams from Holland in second place with 14.51 sec.

Loading was the fourth event. Carrying two textile rolls and two kegs each weighing 100kg onto a platform, athletes battled head to head for the fastest time. Maneuvering the awkward rolls it was a race to the platform sprinting back and forth. The winner of this event was again Marius Lalas with 32.94 seconds.

The next event was the tire flip. Flipping a 420kg tire eight times, Björnson's size gave him a serious advantage taking this event with only 26.48 seconds.

The final event of the day was the atlas stones with weights of 140kg, 160kg, 170kg, and finishing with 180kg for varying heights. Again Thor was explosive completing this event in a mere 18.03 seconds over two full seconds ahead of Marius Lalas who's time was 20.76 seconds. In his second SCL, Lalas had an impressive showing placing fifth overall.

After an injury, Katona was unable to continue after the log. He plans to rest and recover for the next battle in Latvia. Krzysztof Radzikowski was on hand, but did not compete. He's currently recovering from his tricep surgery, but gaining strength by the day. He came to support Poland's representative, Grzegorz Szymanski, who took an impressive second for the day. Third place went to Alex Moonen from Holland.

The new future from Holland, Niels Gordijn, came in 6th place in this tough field. It was an impressive showing for his first international strongman competition.

For Jarno Hams, who placed7th with a minor injury, it was possibly the last Champions League competition in his career. He is training hard for his last fight, the Dutch nationals, which will be held on 12 July. Hams is seeking his 8th title in Holland which would be one more than Berend Veneberg, former strongman and European strongman from Holland with seven titles.

The battle for first overall within the MHP Strongman Champions League is heating up. The competitors are hungry as the season is in full swing. Competitions in Latvia the 28th of June and Portugal on the 4th of July are up next. It's an all out battle for the top spot so stay tuned as the action unfolds. You can find all the latest here on IronMind.

Images from SCL Holland can be found here:

https://www.facebook.com/media/set/?set=a.680909318622829.1073741842.629648870415541&type=1

MHP Strongman Champions League Holland final results:



1.    THOR BJÖRNSSON—Iceland 74
2.    GRZEGORZ SZYMANSKI—Poland 66.5
3.    ALEX MOONEN—Holland 56.5
4.     LAURI NAMI—Estonia 54.5
5.    MARIUS LALAS—Lithuania 52.5
6.    NIELS GORDIJN—Holland 51.5
7.    JARNO HAMS—Holland 50
8.    DAINIS ZAGERIS—Latvia 44
9.    MARTIN WILDAUER—Austria 43.5
10.    MICHAEL BLUMSTEIN—Germany 42
11.     MIKKEL LEICHT—Denmark 38.5
12.    FUAD HSAINIFOUAD HSAINI – Morocco 20
13.    KEVIN LARSEN—Norway 17.5
14.    ERVIN KATONA - Serbia 17 - Injured.

                                                         ###



Want to talk strength?  Join the IronMind Forum.
 
You can also follow IronMind on Twitter and on Facebook.