Hafthor Wins Iceland's Strongest Man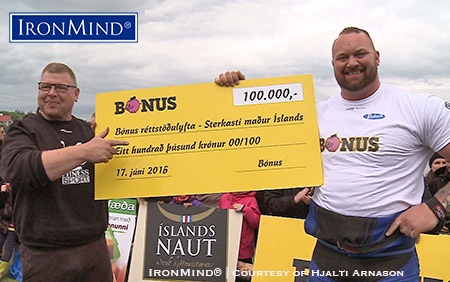 "Hafþór Júlíus Björnsson wins Iceland Strongest Man and is now a 6-time winner," Hjalti Arnason reported to IronMind. 



"Stefán Sölvi Pétursson was second, with 77.5 points, and Ari Gunnarsson was third, with 72.5 points.



"It was a two-day contest in Reykjavík and Mosfellsbær, with 8 events, including weight for height, Atlas stones up to 211 kg, which only Thor and Stefán Sölvi did finish, Farmer's walk, 135 kg, and 120-kg sand bag race , Axle lift. Forward Hold, Deadlift, Circus dumbbell and Husafell stone," said Arnason.


                                                                    ###



Follow IronMind on Twitter and on Facebook.


Want to talk strength? Visit the IronMind Forum: Strongman, grip, Highland Games, Olympic lifting, stones and more.