Hämeenlinna Power Weekend Crowns Its Champions
"The Hämeenlinna Power Weekend is done and in the end we found out that USA´s Kristen Rhodes is our first World Champion," Jyrki Rantanen reported to IronMind.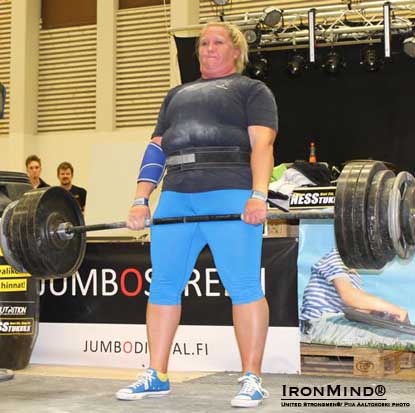 Kristen Danielsson Rhodes won the inaugural United Strongmen Women's World Championships with a performance that included this 220-kg deadlift. IronMind® | Photo courtesy of United Strongmen®/Piia Aaltokoski.


"In Strongwomen the battle was hard and Kristen had to also pull personal bests to edge out the competitors. The happening went smoothly and in overall we found also our first Strongman Fitness© national champions, who are going to represent Finland in Arnold Sport festival´s world champions. Kirsi Järvi (former Finland´s strongest woman) won almost every event in women's class and in men´s class the competition was a little tougher as Sami Pätäri edged out Pasi Peltomaa by one point.


"In the IronMind Grip Classic Alexey Tuakalov took another win and Janne Virtanen joined the team of Finnish record holders in Apollon´s Axle with 190-kg pull."

Women's World Championships: Official Final Scores

1. Kristen Danielsson Rhodes, USA 15.5 pts
2. Niina Jumppanen, Finland 29 pts
3. Anna Rosen, Sweden 29.5 pts
4. Emilie Backlund, Sweden 32 pts
5. Bryndis Olafdottir, Iceland 36 pts
6. Annina Saine, Finland 36.5 pts
7. Alina Leisiö. Finland 50 pts
8. Elena Naumcevski, Australia 53.5 pts
9. Janne Grandalen-Flo, Norway 57 pts
10. Sophie Mangano, Great Britain, 58.5 pts
11. Siobhan Hyland, Ireland, 64.5 pts

### 



The IronMind Forum: discuss this article, talk strength, get help with your training.

You can also follow IronMind on Twitter.