Grzegorz Szymański Wins SCL Poland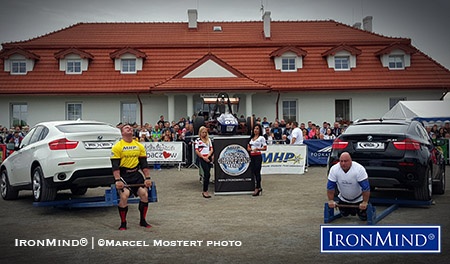 "With a top field and spectacular events last weekend in Poland, the strong Pole Grzegorz Szymański took his second win in the MHP Strongman Champions League in 2015," SCL Director Marcel Mostert reported to IronMind.

"After winning in Holland and beating Zydrunas there, in Poland he beat the runner up in the SCL rankings, Dainis Zageri, and the SCL Leader and his countryman, Krzyzsztof Radzikowski.


"Although it must be said that Krzysztof came just back from the SCL Croatia, where he caught the flu, it cannot be denies that Grzegorz did a great job and won three out of six events.
The last event, Power Stairs, was very impressive: Grzegorz crushed the field with 3 blocks of 220/250/280 kg in a spectacular time of 30.28 seconds and finished just before Stojan Tidorchev (35.75 sec)  and Krzystof Radzikowski( 36.71), while the rest of the field finished in 40 seconds or more.
 
Here are the results:
                                                      Points             SCL ranking Points
1) Grzegorz Szymański (Poland)       65                    25
2) Dainis Zageris (Latvia)                   57                    18
3) Krzysztof Radzikowski (Poland)    51                    15
4) Cestmir Sina (czech Republic)      50                    12
5) Rafał Kobylarz (Poland)                48,5                 10
6)Vidas Blekaitis ( Lithuania)            43                    8
7)Mateusz Baron (Poland)                39,5                 6
8) Matjaz Belsak ( Slovenia)             39                    5
9) Johan Espeukrona (Sweden)        37                    4
10) Stoyan Todorchev (Bugaria)       35                    3
11)Antti Maurujarvi (Finland )         34                    2
12) Lauri Nami (Estonia)                   29                    1
13) Akos Nagy (Hungary)                  18                    0
 
"Krzysztof is still leading the MHP Strongman Champions League with 134 points after 8 stages, but we are just halfway.  Dainis Zageris is second with 90 points and the mighty Icelander Haftor Julius Bjornsson is third with 87 points, so anything can still happen.
 
"This coming weekend will be the 9th stage of the MHP Strongman Champions League and for the first time, SCL is coming to Austria, plus this will mark the comeback of Martin Wildauer. So, SCL Austria promises to be a great fight between the current SCL World Champion (Martin Wildauer) and the 2013 World Champion as well as current leader of the overall ranking (Krzysztof Radzikowski). Added to that, let's not forget that in a field with 14 competitors, over 6 events, anything can happen so it will for sure be a battlefield again.


May the strongest win," said Mostert.

 
                                                      ###



You can also follow IronMind on Twitter and on Facebook.                        



Want to talk strength?  Join the IronMind Forum.