Grip Strength at the LA FitExpo: Visegrip Viking Challenge
Featuring $2,500 in cash prizes, a chance to qualify for the 2014 Armlifting World Championships, and multiple weight classes for both men and women, the 2014 MET-Rx Odd Haugen Visegrip Viking Challenge presented by IronMind will put some serious heat on the world records for the Captains of Crush (CoC) Silver Bullet, the Apollon's Axle Double Overhand Deadlift and the Rolling Thunder.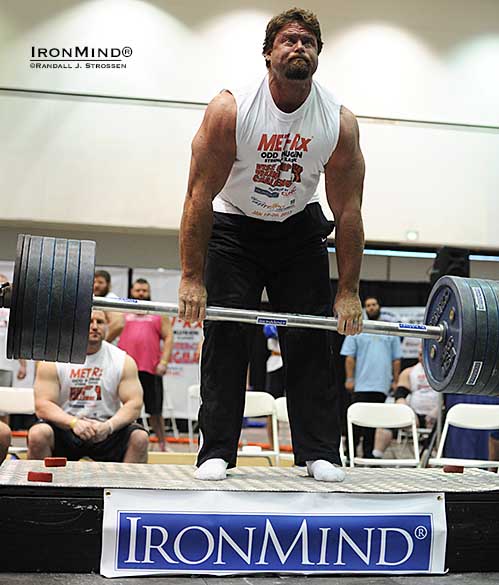 Last year, Mike Burke crushed all comers, and once again the LA FitExpo is likely to be the home of the year's top grip strength contest as Odd Haugen's Viking Visegrip Challenge features the big three of the grip strength world. Last year, Mike Burke pulled this double overhand deadlift on the Apollon's Axle to his knees—will he polish it off this year? Come to the LA FitExpo and see it for yourself. IronMind® | Randall J. Strossen photo




"We have a tremendous lineup," Odd Haugen told IronMind today. "Mark Felix, Mike Burke, Alexey Tyukalov, Amy Wattles . . . plus a number of strongman competitors, such as Jerry Prichett, who have extremely strong grips." Count Haugen himself as being in the top tier too, and watch for some top performances from 2013 Armlifting Junior World Champion Roman Penkovskiy.

The competition starts at 11:00 a.m. on Sunday, kicking off with the Rolling Thunder—giving the world's first head-to-head matchup between Mark Felix and Alexey Tyukalov. Felix held the Rolling Thunder world record for more than five years, until it was broken by Tyukalov last year.

Follow this link for full contest details.

###



Want to talk strength? Join the IronMind Forum.

You can also follow IronMind on Twitter and on Facebook.