Grip Strength and Mas Wrestling: Girls Just Want to Have Fun, Too
The Odd Haugen Strength Classic, part of the NorCal FitExpo, is getting an added dimension Haugen told IronMind yesterday: there will be women's classes in both the grip strength and mas wrestling competitions.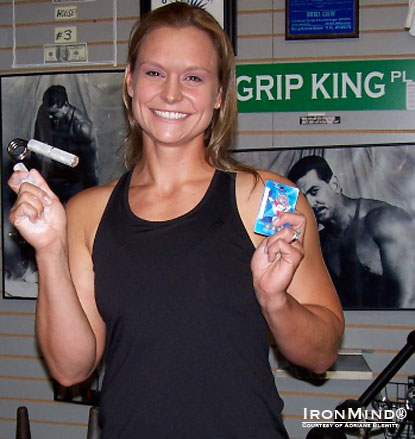 When Adriane (nee Blewitt) Wilson became the first women to certify on the Captains of Crush No. 2 gripper, she proved that she was much more than just one of the boys when it comes to grip strength. IronMind® | Photo courtesy of Adriane Wilson.


Haugen, long a leader in organizing world class grip competitions, is holding an IronMind Record Breakers on the following events:

• Double Overhand Deadlift on IronMind Apollon's Axle

• IronMind Rolling Thunder

• IronMind Hub

• Captains of Crush Silver Bullet Hold
• IronMind Little Big Horn Anvil Lift

Some of these events have established women's world records and some do not—the expectation is that several new world records will be established, and to put these performances in context Haugen said, "The top women would beat most men on these events—they are really strong."
Haugen didn't mention names, but such Americans as Amy Wattles and Adriane Wilson spring to mind, as well as England's Elizabeth Horne.

Mas wrestling was a huge hit when Haugen included it as part of his Strongman Combat contest at the LA FitExpo, and it was noticeable that when spectators were offered a chance to try their hand at it, women, along with men, jumped at the chance. So, for Haugen, it was a natural to open the event to women, too, at the his next contest.

Here are full details on the NorCal FitExpo and entry forms for these events..

### 



The IronMind Forum: discuss this article, talk strength, get help with your training.

You can also follow IronMind on Twitter.