With her powerful native son Mark Felix ready to be on hand, Grenada's Strongest Man is back for its third edition, event organizer Christopher Williams told IronMind.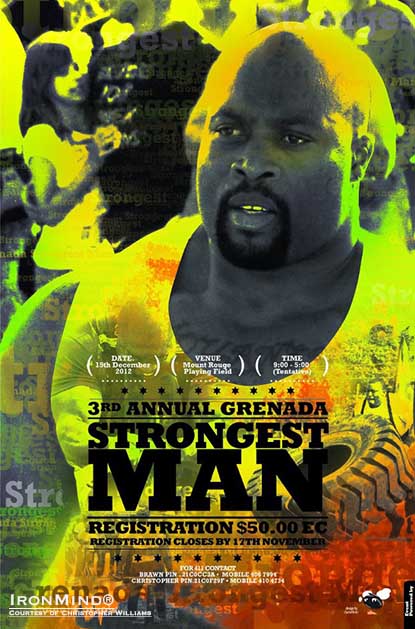 Grenadan World's Strongest Man veteran and the current Rolling Thunder world record holder Mark Felix will be at the 2012 Grenada's Strongest Man contest. IronMind® | Artwork courtesy of Christopher Williams.


It's where he developed his taste for fish heads, rumored to be the secret of his world-class grip strength, and native son Mark Felix will be back in Grenada on December 15 for the Grenada's Strongest Man contest.

Denny Felix said that thanks to sponsorship from Virgin Atlantic and True Blue Resorts are sponsoring the World's Strongest Man veterans and Rolling Thunder world record holder to be there in the all-impressive flesh.

Besides his many appearances in the world's top strongman competitions, Mark Felix has huge credentials in the grip strength world as well: he is the longtime world record holder in the Rolling Thunder, a past world record holder on the Captains of Crush (CoC) Silver Bullet Hold, and is viewed as a realistic threat to the world record for the Apollon's Axle double overhead deadlift as well.

The entry deadline is November 27 and please contact Christopher Williams for details.

###



Visit the IronMind Forum: talk strength, discuss this story. Strongman, grip, Highland Games, Olympic lifting, stones and more.

You can also follow IronMind on Twitter.