Gregor Edmunds Wins Colonial Highland Games
"Yesterday we had the 52nd Annual Colonial Highland Games at Fair Hill, Maryland [and] once again, Gregor Edmunds from Scotland was the overall champion of our athletics heptathlon," Jonathan Finnie reported to IronMind.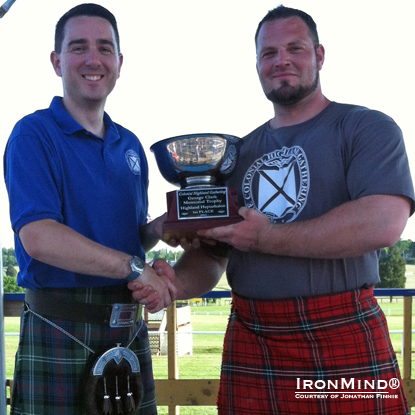 Jonathan Finnie (Vice President, Scottish Games Society of Delaware) presents the first place trophy to Gregor Edmunds. IronMind® | Photo courtesy of Jonathan Finnie.


"The day started with the 22-lb. Heavy Hammer and Gregor set a new ground record of 119' 7-1/2'' and took first place," Finnie said.

"Gregor placed first in the 17-lb. Stone Putt with 57' 9". Mark Valenti took first place in the 56-lb. Weight Throw For Distance with 42' 2-1/2", closely followed by Gregor with 41' 9-1/2".

"Mark Valenti placed first in the 28-lb. Weight Throw For Distance with 86' 8-1/2".

"In the afternoon, Gregor tamed the Caber with three perfect 12 o'clocks, in front of packed stands.
"In the 56-lb. Weight Toss For Height, Mike Zolkiewicz and Sam Grammer both cleared the bar at 17' 6'', using a traditional Scottish short weight. Then Mike Zolkiewicz hit the bar on three occasions while attempting the world record at 18' 10-1/2".

"Overall Gregor Edmunds finished in first place followed by Mike Zolkiewicz and Sam Grammer in joint second place. It was an outstanding day of athletics in Fair Hill," said Finnie.

###

The IronMind Forum: discuss this article, talk strength, get help with your training.

You can also follow IronMind on Twitter.