Gregor Edmunds Wins Colonial Highland Games
Showing good early season form, Gregor Edmunds won the 51st Annual Colonial Highlands Games in Fair Hill, Maryland.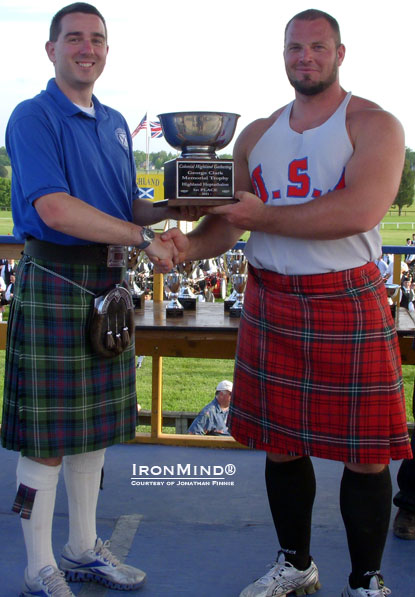 Jonathan Finnie (Board of Directors Scottish Games Society of Delaware) presents the champion's trophy to Gregor Edmunds at the 51st Annual Colonial Highland Games. IronMind® | Courtesy of Jonathan Finnie.


"Gregor Edmunds was the overall champion of our athletics heptathlon," Jonathan Finnie reported to IronMind today.

"The day started with the 22-lb. Heavy Hammer and Gregor took first place with a throw of 111' 11''. Gregor placed first in the 17-lb. Stone Putt with 59' 4'' and first place in the 56-lb. Weight Throw For Distance with 46' 3", setting a new ground record. Gregor placed 1st in the 28lbs Weight Throw For Distance with 89' 1/2'', setting yet another ground record.

"As the afternoon progressed, the new Fair Hill caber was tamed by Mike Zowlkiewcz (second), Sam Grammer (third) and Gregor, [who had the winning] throw of 11:30.

"Harrison Bailey took first place in the 20-lb. Sheaf Toss with a crowd pleasing toss of 30'. Then Harrison Bailey took first place in the 56lbs Weight Toss For Height using a spinning technique for 18'.

"All in all, an awesome display of sport," Finnie said.


###



The IronMind Forum: discuss this article, talk strength, get help with your training.

You can also follow IronMind on Twitter.