Gregor Edmunds Wins Carmunnock International Highland Games
Gregor Edmunds won his fifth straight Highland Games over the weekend, this time at Carmunnock, with Colin Bryce filing the following report with IronMind®.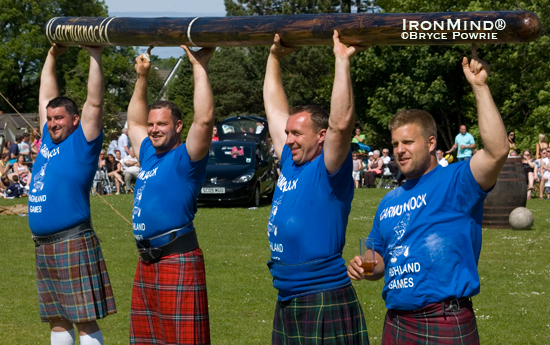 "Here is the picture of the four men who made it through to the challenge caber—Scott and the others made a toast with whisky before the challenge began," Colin Bryce reported. Left to right: Sebastian Wenta, Gregor Edmunds, Hans Lolkema, Scott Rider. IronMind® | Bryce Powrie photo.


Gregor Edmunds: Five in Row
by Colin Bryce

Yesterday, Gregor Edmunds won his fifth straight Highland Games on a sunny Scottish Sunday - a day that started with an incredible stone putting contest. Four sixty-foot putters had a tough showdown over four rounds: Lucasz Wenta, Sebastian Wenta, Gregor Edmunds and the newly-crowned World Stone Putting Champion Scott Rider. The contest went back and forth with all four taking the lead at one point. Finally, Sebastian hit a 59' putt to take the victory; Scott was an inch behind. Gregor and Lucasz were third and fourth respectively, less a foot behind the winner.

In the 28-lb. weight there was a lot of frustration as the big names mistimed a number of throws. In the end, Gregor Edmunds took first with a throw of almost 85 feet, Sebastian was second and Scott again, just an inch behind, in third.

Stefan Solvi Petursson of Iceland came alive in the 56-lb. weight for height. He was pushed all the way up to 17' 6" by the field, with Gregor edmunds getting second with 16' 6" and just failing 17' 6". The crowd screamed for more and that is exactly what they got. Stefan called for 18' and nailed it on a traditional Scottish short-handled weight!

The qualifying caber took a number of big scalps including Stefan Solvi Petursson and World Amateur Champion Sinclair Patience. It was the Edmunds, Sebastian Wenta, Rider and Dutchman Hans Lolkema who earned a crack at the big challenge stick. At 20 foot and 158 lb. it would take some effort to turn it. Arguably the world's best caber tosser, England's Scott Rider, was first to turn it. He hit a 10:30. Edmunds was the only other athlete to turn it, and he nailed a very sweet two minutes to twelve.

The 20-lb. sheaf toss rounded the day off. Sebastian Wenta won with 30 feet. Edmunds and Rider settled for joint second on 28 foot.

The overall winner was Gregor Edmunds, second was Sebastian Wenta and Scott Rider was third.


Want to talk strength? Join the IronMind® Forum!

You can also follow IronMind® on Twitter.