Gregor Edmunds Wins 9 out of 9: Is He Scotland's Top Highland Games Athlete?
"Gregor Edmund's, Scotland's top Highland Games athlete," Colin Bryce told IronMind®, "once again showed his worth over the weekend winning another back-to-back Highland Games this past weekend at Luss, on the banks of Loch Lomond, and at the Cuper Highland Games in the Kingdom of Fife."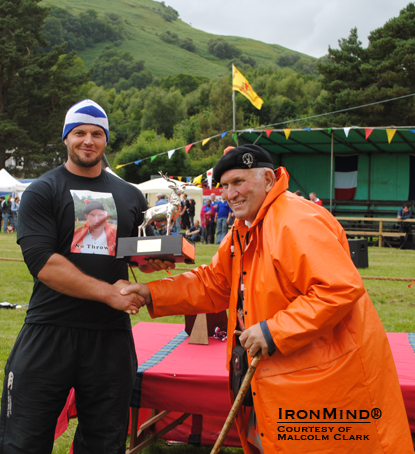 Gregor Edmunds receives the Stag trophy at Luss from the great Jock McColl of Oban. IronMind® | Photo courtesy of Malcolm Clark.


"This takes Edmunds' impressive tally up to nine in a row so far this year," reported Colin Bryce. "Fellow Scot Bruce Robb put up a good fight, but Gregor's form over the two days was truly world-class. He achieved a season's best in the light hammer at Luss with a throw of 140' 6" and at Cuper the ground record in the 28-lb. [weight for distance] held by Ryan Viera, fell. Edmunds pushed it up to 89' 3". Edmunds said that he was "particularly looking forward to the SHGA World Championships," where he wants "to take home the title and finally prove that he is undoubtedly the world's best."




Want to talk strength? Join the IronMind® Forum!

You can also follow IronMind® on Twitter.