Gregor Edmunds Edges Scott Ryder at the 2010 Skye Highland Games
Turnabout is fair play and this time it was Gregor Edmunds who edged Scott Rider, with Edmunds taking the title at the Skye Highland Games by one point today, Colin Bryce reported to IronMind®.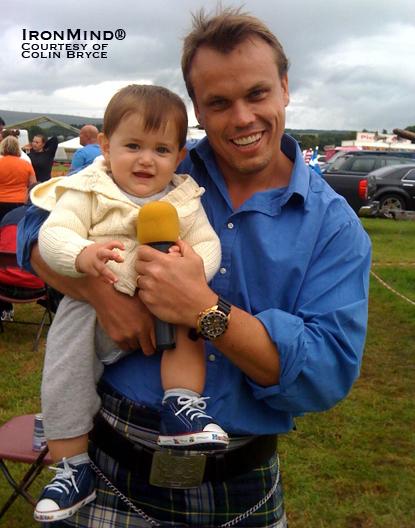 Nearly 10-month-old Wee Laurence Bryce looks perfectly comfortable being at the hot end of a microphone as his dad, Colin, takes a break from calling the action at the Callander Highland Games. IronMind® | Photo courtesy of Colin Bryce.


"Just been told Mike Z[olkiewicz] beat the legendary Skye 56 record," Bryce said. "It's now 16 feet and it is a total dead weight - no ring. [Scott] Rider again hit a ground record in shot 57' 6". But good hammers saw Gregor [Edmunds] to an overall one point victory. Mike Z was third."

Also, here are some more details from the Callander Highland Games, courtesy of Colin Bryce, with these being the top throws:

Shot: 59 feet by Scott Rider
28-lb. for distance: 88 feet by Scott Rider
56-lb. weight for height: 17' 6" by Mike Zolkiewicz
Light hammer: 134 feet by Gregor Edmunds



Want to talk strength? Join the IronMind® Forum!

You can also follow IronMind® on Twitter.