Hats off to Steve Belanger for hosting his great Grip Gathering in southern California this weekend—a terrific group of guys showed up and there were some very impressive feats of strength performed on grippers, nails and various other implements of destruction.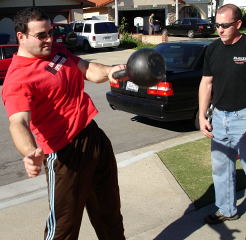 Turning the Belanger driveway into a gym, Zach Passman cranks on a kettlebell under the watchful eye of Brett Jones, one of Pavel Tsatsouline's instructors. Multi-talented, both Zach and Brett are on the Red Nail™ Roster. IronMind® | Randall J. Strossen, Ph.D. photo.

Not wasting any time in terms of taking care of business, Kevin Bussi smacked a No. 3 Captains of Crush® gripper shut for me, so he's on his way to getting certified - way to go Kevin. That was just one of many impressive feats of strength performed in Steve's driveway and garage, but the most important thing was that a bunch of guys had gotten together to test their strength, talk with each other, encourage great efforts and to have a good time.

It was my pleasure to be able to come down for a couple of hours and from some of the things I saw, all I can say is that the grip world is going to see some rocking feats of strength next year.

Many thanks to Steve and his family—you put on a great party!