Got An Arm? Pull at the Empire State Golden Arm Tournament of Champions.
The 33rd Annual Empire State Golden Arm Tournament of Champions will be held on November 18 at New York's Port Authority Bus Terminal, New York Arm Wrestling Association (NYAWA) president Gene Camp announced.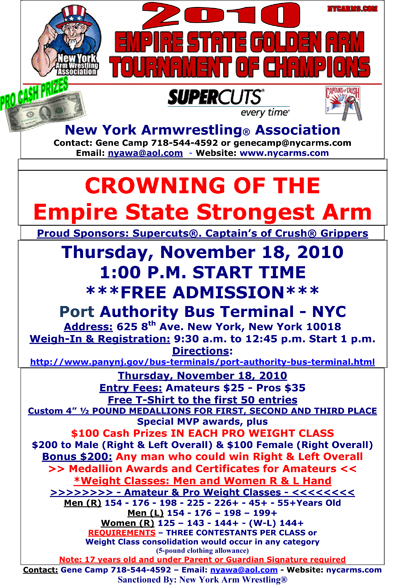 Mike Avello, Travis Bagent, Josee Morneau and Mike Selearis are among the big names expected to compete at the Empire State Gold Arm Tournament of Champions. IronMind® | Courtesy of New York Armwrestling Association.


The contest begins at 1:00 p.m., with finals at about 3:30 p.m., with Camp expecting over competitors chasing the title of Empire State Golden Arm champion, and "the day's overall strongest arms will be crowned with Empire State MVP awards and receive additional $200 bonus cash prizes."

Please visit the official New York Armwrestling Association website for full details.

###

Want to discuss this article or just talk strength? Join the IronMind Forum!

You can also follow IronMind on Twitter.