Golden Glow at the Arnold
Coming directly from Beijing, 2004 Olympic gold medalist weightlifters Shi Zhiyong and Zhang Guozheng, and their coach, Chen Wenbin, will be in Columbus, Ohio later this week to participate in the Arnold Fitness Weekend said IronMind president Randall J. Strossen, Ph.D., who extended the invitation to the Chinese Weightlifting Federation on behalf of California Governor Arnold Schwarzenegger and his fitness business partner Jim Lorimer.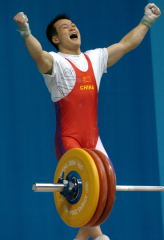 "Yes!" On his way to Olympic gold in Athens, 69-kg weightlifter Zhang Guozheng (China) celebrates his successful 157.5-kg snatch at the 2004 Olympics. Zhang Guozheng and his teammate Shi Zhiyong will be lifting on the main Expo stage at the Arnold this Saturday at approximately 2:00 p.m. IronMind® | Randall J. Strossen, Ph.D. photo.

"This is an unprecedented opportunity for the sport of weightlifting," Dr. Strossen said, "and it reflects not just the international stature of the Arnold Fitness Weekend, but also the tremendous support Governor Schwarzenegger and Jim Lorimer have given to this sport.

"Typically called 'Olympic-style weightlifting' in the US, this is the only branch of the iron game represented in the Olympics," Dr. Strossen explained, "and it is a dramatic test of power and athletic ability.

"Bringing these lifters to Columbus, Ohio this week underlines the commitment the Arnold Expo has made to this sport," Dr. Strossen said, "and it represents the hard work of many people.

"This is only possible because of the immediate support we got from the Chinese Weightlifting Federation and the Chinese Olympic Committee, followed by extraordinary assistance from the US State Department, the US Embassy in Beijing, the US Olympic Committee and USA Weightlifting.

"This has been a team effort and a wonderful example of international sports diplomacy," Dr. Strossen said. "The sport, the athletes and the fans all win."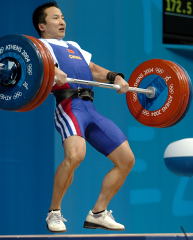 Flying through the air, Shi Zhiyong (China) races to pull himself under his 172.5-kg clean and jerk at the Athens Olympics, where the 62-kg weightlifter won the gold medal. Come see this tremendous lifter at the Arnold this weekend. IronMind® | Randall J. Strossen, Ph.D. photo.

The Columbus Weightlifting Club brought the sport to the Arnold Fitness Weekend in 2003, and it is their hard work that has helped to create this incredible opportunity. For complete program and ticket information on the Arnold Fitness Weekend, please check the website.