Golden Arm Wrestlers: Travis Bagent, Joyce Boone, Giorgi Gelashvili and Roman Tsindeliani
Dedicated to the memory of Coast Guard Petty Officier Shaun Lin, the 2010 Empire State Golden Arm Tournament of Champions lit up New York's Port Authority Bus Terminal as some of the best arm wrestlers on the planet locked up and pulled.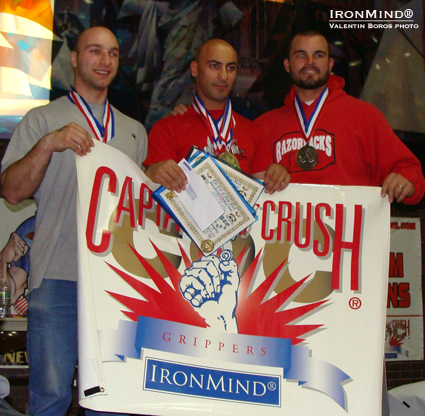 Captains of Crush® Gripper MVP winners at the Empire State Golden Arm Tournament of Champions (left to right): Giorgi Gelashvili, Roman Tsindeliani, Travis Bagent. IronMind® | Valentin Boros photo.


Among the highlights, Brooklyn's Joyce Boone upset perennial Canadian champion Josee Morneau, and Giorgi Gelashvili beat Travis Bagent in the right hand men's super heavyweight class.

Big yes, but these and other top performances, "were overshadowed by a much smaller, quieter man, Roman Tsindeliani, who moved to New Jersey from Russia just a year ago," said meet promoter and New York Arm Wrestling Association (NYAWA) president Gene Camp.

"Despite weighing just 150 pounds, Roman was able to win seven weight classes. The only match that Tsindeliani lost during the day was to Bagent, who has more than 150 pounds on him, in the overall left handed category. Roman is the best weight for weight arm wrestler I have ever seen," said Camp. "I've been doing this for 33 years and I've never seen anything like it."

For full contest results and more from the NYAWA, please visit their official website.

###


Want to comment on this article or just want to talk strength? Join the IronMind Forum!

You can also follow IronMind on Twitter.