Go North, Strong Man: SCL IceMan Challenge II
"The IceMan Challenge II which is first SCL 2011 event, will gather good lineup to Arctic Circle," Strongman Champions League co-founder Ilkka Kinnunen told IronMind today - understating that the card is headed by none other than Mr. Everything in strongman, Zydrunas Savickas.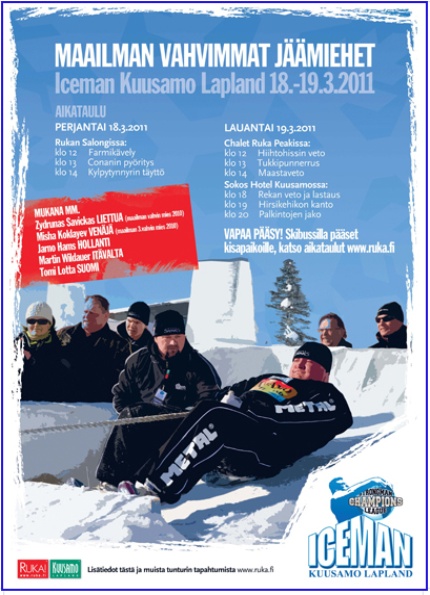 Strongman goes Arctic, thanks to the creativity of SCL which introduced the IceMan Challenge in 2010 and will use this spectacular setting to kick off its 2011 season. IronMind® | Courtesy of SCL.


"Thirteen athletes around the world will compete not only for heavy events, but also against cold weather. There will be no temperature limits when athletes hits to real action," read Kinnunen's statement.

Here is the official start list:

• Zydrunas Savickas, Lithuania
• Misha Koklayev, Russia
• Ervin Katona, Serbia
• Pedro Karlsson, Finland
• Tomi Lotta, Finland
• Martin Wildauer, Austria
• Jarno Hams, Holland
• Rauno Heinla, Estonia
• Johannes Årsjö, Sweden
• Matt Wanat USA
• Etienne Smit, South Africa
• Konstiantyn Ilin, Ukraine
• Christian Savoie, Canada

"This is a two-day competitio, beginning on March 18, Ruka Salong:

1) Framewalk starting time: 12 Sponsored by: Meriser Oy/Merika.
2) Conan Circle starting time: 13 Sponsored by: Veho/Mercedes-Benz.
3) Saunabarrell loading starting time 14 Sponsored by: Ruka 911.

Saturday 19.3.2011 Chalet Ruka Peak

4) Human Ski Lift (arm over arm) starting time 12 Sponsored by: Kuusamo lure/Finngrip
5) Log Lift for reps starting time 13 Sponsored by Coca Cola Zero
6) Dealift for reps starting time 14 Sponsored by: Ruka 911. This event athletes will be using also IronMind lifting straps. Only straps which can survive in [such] cold weather.

In the evening two last events will be done in Sokos Hotel Kuusamo, which is also official IceMan hotel during the competition.

7) Truck Pull and Loading Medley starting time 18 Sponsored by: Volvo
8) House Carry starting time 19 Sponsored by: Koillismaan Osuuskauppa ja Kuusamo Log Houses Ltd."


 ###


Want to comment on this article or just want to talk strength? Join the IronMind Forum!

You can also follow IronMind on Twitter.