Glenn Ross: "Savickas is the Strongest Man on the Planet"
"My concept of ultimate strength is like old-time circus-type strongman," Glenn "The Daddy" Ross told IronMind®, and he wants "tests people can relate to. Let's get back to stones, logs, carrying cars."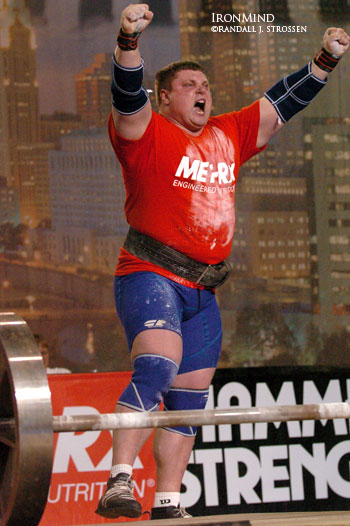 In what is a familiar scene, Zydrunas Savickas celebrates another huge performance on the replica Apollon Wheels at the Arnold strongman contest - this time it was in 2004. IronMind® | Randall J. Strossen, Ph.D. photo.

Glenn Ross distinguishes between his vision of strongman and what he calls strength athletics; Ross wants to emphasize "power and power movements . . . it's the distance carried, rather than the time," he said.

Despite his clear preferences, Glenn Ross very much champions a free market in the strongman world, saying that, "It's like a supermarket, and choices are good for the sport."

"The skinny, faster guys" can go to the strength athletics end and "the bigger, powerlifting guys" can gravitate to his contests, Ross said.

Quick to praise Zydrunas Savickas as "strongest man on the planet," Glenn Ross said that he wishes Savickas were free to compete wherever he would like. Referring to IFSA's limitations on where its athletes can compete, Ross said, "They are doing to Savickas what was done to Ali," referring to Muhammad Ali missing what would have been his best years when he was suspended from boxing.

"The sport isn't big enough for that," Ross said.

And talking power, just how is Glenn Ross doing these days? Very well, thank you.

"I'm going for 8 reps with 230 kg in the bench tonight," said Ross, whose motto is, "Raw or not at all." Glenn has also recently done a 185-kg log for two reps, and pressed his replica Thomas Inch dumbbell for 11 reps.

And talking raw power, Glenn said that he's "almost there" in terms of hitting an 1,100-kg total in powerlifting, with only a belt and knee wraps, adding that he is still working on where to stage his assault on a 400-kg squat, 420-kg deadlift and a 280-kg bench press.

Glenn Ross apparently is not the only person with this vision of how strongman contests should be designed and run, as he told IronMind®, "This year's UK Strongest Man will be aired on Sky Sports . . . a deal . . . that will take the sport of Ultimate Strongman to a new level."

"The UK Strongest Man is now going into its fourth year," said Ross, tracing its expansion year by year. "The UK Strongest Man has now grown to 5 x 1 hour programs scheduled for SKY, with several repeats of each show scheduled for this coming Christmas."