Giants and Legends by Douglas Edmunds
"This unique book is the perfect present for strongman fans. Enjoy a visit into the crazy world within the strongman and highland games circuit - get to know some of the larger than life, legendary characters," reads the release for Douglas Edmunds' book, but come on: how about saying that the author is the man known as the Godfather of Strongman and when he wrote this book, it was based on his having "lived with, drunk with and played with" the biggest names in strongman.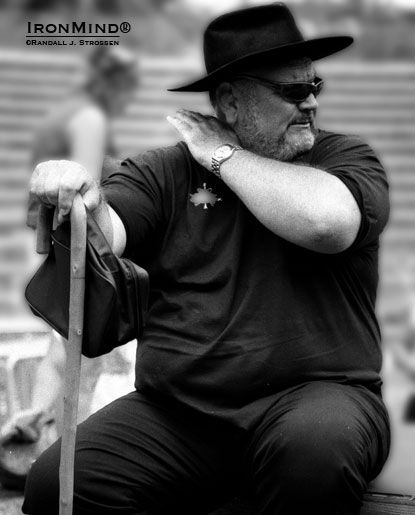 "Bring me a cold one and make it fast or I'll give you a taste of the back of my hand" is not what Douglas Edmunds was actually saying, and he has since given up drinking, but if you never had the pleasure of meeting the Godfather of Strongman in person and seeing him in action, this photo might help you imagine what you missed. IronMind® | Randall J. Strossen photo.


It's a "story from within," Edmunds told IronMind, a book that took him about five years to write. 

"I got ill and couldn't do the actual stuff any more," said Edmunds, so he set out to record what he calls his unique experience, "not just as an observer, but as one who lived among them."

To purchase a copy of Giants and Legends, please contact Linda Edmunds for the full details.

### 



The IronMind Forum: discuss this article, talk strength, get help with your training. 



You can also follow IronMind on Twitter.