Giants Live–Melbourne FitX: Poundstone Wins with One Arm
He might be a cop in his day job, but some might call strongman Derek Poundstone the One-Armed Bandit after the won the Giants Live–Melbourne despite having torn his biceps at another contest shortly before.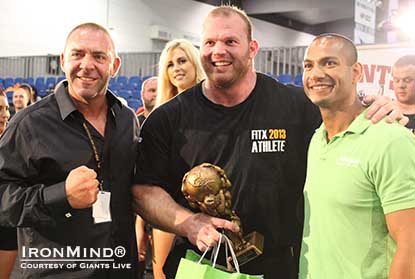 Derek Poundstone (center) is headed to World's Strongest Man 2013, after winning Giants Live–Melbourne . . . and he did with one arm. That's Paulo Freitag (Alkaline Nutrition) on the right and Tony Doherty (FitX promoter) on the left. Photo courtesy of Giants Live.


"Derek was in phenomenal form this weekend at FitX in Melbourne," said Colin Bryce, the managing director of Giants Live, the official qualifying tour for the World's Strongest Man contest.

"FitX in its third year has now grown to 3 days and 25,000 fans through the doors. There was some world-class bodybuilding won by Dexter Jackson, also IFBB fitness, bikini models, powerlifting, arm wrestling and all the other usual sports at this cool fitness expo. Right in the middle of all of it was the Giants Live: Worlds Strongest Man qualifying Tour event.

"It was Derek Poundstone who took first, Nick Best second and Frankie Scheun third. Those three men will qualify for the World's Strongest Man in 2013.

"Derek was in considerable pain with his right bicep being torn from the Arnold classic event one week before. Nick Best managed to tear one of his rear deltoids during the first event. However these two Americans battled through considerable pain to show some exceptional quality of lifting.. Franky Scheun of South Africa came in third to take the Southern Hemisphere's Strongest Man title. Winning the battle of the Australians was Warwick Brant who finished in fourth place.

"Notably Lars Ritbakken of Norway took on John Brzenk in an am wrestle which lasted 1 minute 20 seconds! Sadly for Lars he lost and tweaked his pec but it was a shock for John who was putting up $1000 to all comers. Lars—now a strongman—did come 2nd in European Arm wrestling Championships a few years ago. Lars had to drop out f the final two strongman events due to the injury," Bryce said.

For full details, please visit the Giants Live website.

###

The IronMind Forum: discuss this article, talk strength, get help with your training.

You can also follow IronMind on Twitter.