Giants Live—the official qualifying tour for the World's Strongest Man contest—is coming to Budapest June 20–21, serving up what Managing Director Colin Bryce calls "an interesting mix of old and new."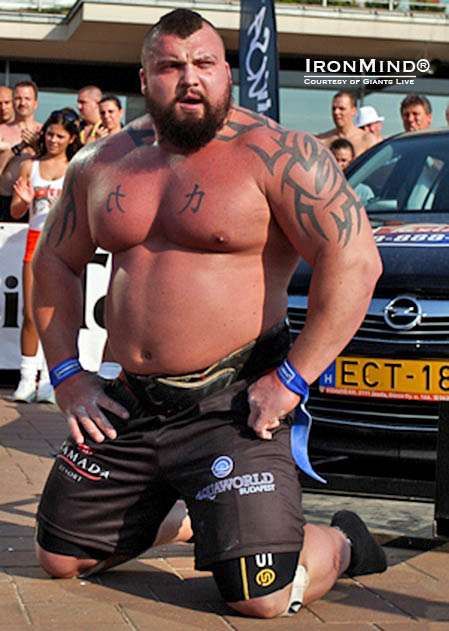 Eddie Hall was runner-up at Giants Live Budapest last year and has to be the favorite in 2014. IronMind® | Photo courtesy of Giants Live


Start List
1. Marc van der Haer (RSA)
2. Peter Puzser (SVK)
3. Tamas Hajnal (HUN)
4. Janos Sebestyen (HUN)
5. Alen Radosevic (SRB)
6. Matjaz Belsak (SLO)
7. Konstantine Janashia (GEO)
8. Eddie Hall (GBR)
9. Jason Bergmann (USA)
10. Mike Caruso (USA)
11. Graham Hicks (GBR)
12. Michael Votter (AUT)

"Akos Nagy, Hungarian number one, is out with a biceps tear but as organiser and Head of Giants Live Hungary, along with Hungarian Tourism, have planned what we hope to be the greatest strongman show to come to ever come to Hungary,"
said Bryce.

Events
1. Arm over arm truck pull
2. log for reps
3. Conan circle
4. Car deadlift
5. Atlas stone
6. Iceland cross carry for max. distance

Competition details
Day 1 June 20th, Friday - (only the truck pull, 20June, Friday 6.pm CET) DALLAS American Restaurant in Budapest - http://dallasetterem.hu/
Day 2 June 21st, Saturday - Ramada Resort-Aquaworld Budapest (21 June, Saturday, 2pm CET): http://www.ramadaresortbudapest.hu/

###



Want to talk strength? Join the IronMind Forum.

You can also follow IronMind on Twitter and on Facebook.