Giants Live at the Mohegan Sun: World Record Assault . . . Apollon's Axle
When Giants Live launches its World's Strongest Man qualifying tour at the Mohegan Sun this coming weekend, there is a good chance that history will be made: rumor has it that at least three competitors have a shot at breaking the world record in the Apollon's Axle - a feat of strength with roots in the 19th century, going back to the standout French strongman Louis 'Apollon' Uni.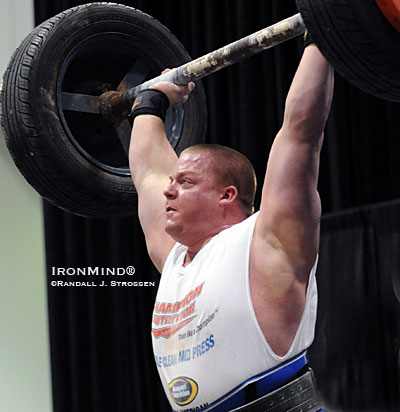 Ryan Bakke hit this world record 185-kg lift on the Apollon's Axle at the FitExpo earlier this year. As formidable as it is, Bakke's world record is expected to be under serious attack at the Mohegan Sun this coming weekend when Giants Live brings in some of the world's premier strongmen, ready to lock horns with this classic test of strength. IronMind® | Randall J. Strossen photo.

The name Apollon conjures up an image of the imposing French strongman Louis Uni and his signature railroad wheels. Unliftable for most really strong men, the non-revolving nearly two-inch diameter bar proved much more difficult to lift than its 366-pound weight would have suggested, and in the following years some of the biggest names in the lifting world tried their hand at the challenge, with very few succeeding.

In 1994, responding to a customer request for a thick bar (how could we refuse such a request from longtime lifting guy Dan Martin, especially since Dan's hometown is Hercules - no kidding), IronMind® developed and introduced the Apollon's Axle, a bar that, like the original, was smooth and about two inches in diameter.

Strongman competitor and promoter Odd Haugen was quick to realize the inherent challenge and magnetism of the IronMind® Apollon's Axle, and it has been a core event in Haugen's contests for nearly a decade. Asked about the bar's appeal, Haugen said, "The history, the tradition . . . the idea of using this established standard," and at the root of things was Haugen's feeling that the smooth, thick bar with locked-on wheels/plates minimized the impact of technique when doing a continental/clean and press/push press/jerk, making it more of a test of brute strength.

Not to be confused with this bar is the bar that IFSA introduced in 2007, which unlike the original was knurled and substantially smaller in diameter, differences that would make this bar significantly easier to lift. Jamie Reeves, who designed the IFSA bar, has confirmed for IronMind that it was 35 mm (approximately 1-3/8"), which, interestingly, is exactly what four-time World's Strongest Man winner Magnus Ver Magnusson had estimated when we asked him on Saturday. Magnus Ver Magnusson also pointed out that he thought the top lifts done on this bar were called 'IFSA Apollon's Axle world records,' reinforcing the fact that they lacked the historical tie-in that, in fact, is a key to the lift's appeal.

Returning to the actual standard, as reflected in the IronMind® Apollon's Axle™, some of the breakthrough world records included Hugo Girard's 175-kg lift done at the 2003 IFSA Hawaii Grand Prix, Brian Schoonveld's 180-kg stunner at the 2005 FitExpo, and Ryan Bakke's 185-kg current world record done at the 2009 FitExpo. All of these lifts were substantial and Bakke's mark truly is the best known official lift and the accepted world record. But, the feeling is that this coming Sunday, when Giants Live opens its World's Strongest Man Qualifying Tour at the Mohegan Sun, this record could well be broken, making strongman history.

So if you have something bigger than a potential world record on the Apollon's Axle planned for next Sunday afternoon, have at it, but otherwise, come to the Mohegan Sun and see it for yourself.