Giants Live UK Broadcast Schedule
"The Christmas specials start early in the UK this year," Giants Live boss Colin Bryce told IronMind: the series kicked off last night and Giants Live has been given prime time on Thursday at 8 p.m. on Channel 5 (UK) for the next four weeks.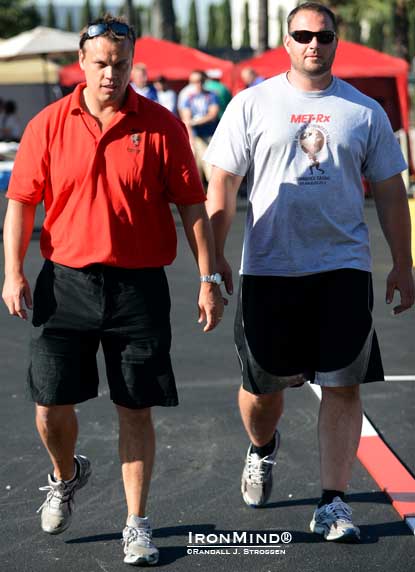 There's a lot of World's Strongest Man DNA in this photo: Colin Bryce (left) and Gregor Edmunds (right) are longstanding vital cogs in the strongman contest all strongmen most want to win: WSM. Among their credits, Bryce runs Giants Live, the official qualifying tour for WSM, and Edmunds carries on his family's proud strongman tradition as he works on WSM event and equipment design. IronMind® | Randall J. Strossen photo.


The series began last night and continues through December 20. Here are the details on the complete series:



Giants Live: World's Strongest Man Qualifying Tour on Channel 5 (UK)

Qualifying 1 – Thursday 22 November 20:00, Melbourne

Qualifying 2 – Thursday 29th November 20:00, Finland

Qualifying 3 – Thursday 6th December 20:00, Budapest

Qualifying 4 – Thursday 13th December 20:00, Leeds

Qualifying 5 – Thursday 20th December 20:00, Poland


"TV coverage of the Giants Live tour kicked off in Melbourne last night at the world renown FitX Expo. Ed Hall of the UK along with Mike Burke, Mike Jenkins and Nick Best all star in this episode," Bryce said, and the action continues as the world's top strongman competitors lift, carry, pull and load—with the best qualifying for the World's Strongest Man contest.

### 



The IronMind Forum: discuss this article, talk strength, get help with your training.

You can also follow IronMind on Twitter.