Giants Live: Official Launch Press Release
It's been named as the "official qualifying tour for the World's Strongest Man competition," pretty heady stuff in the strongman world, and here it is, the official press release direct from Giants Live.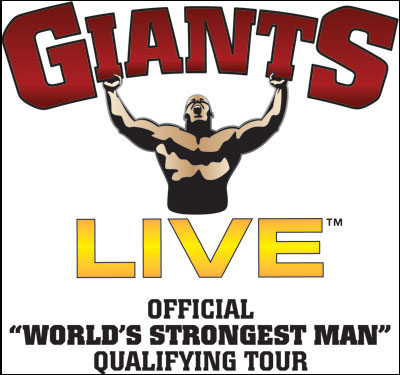 Giants Live: It's the official qualifying tour for the World's Strongest Man contest and and May 17 will see the 2009 tour launch at the Mohegan Sun. IronMind® | Artwork courtesy of Giants Live.


Here is the official press release:

GIANTS LIVE NAMED OFFICIAL QUALIFYING TOUR FOR WORLD'S STRONGEST MAN COMPETITION

First Event on International Calendar To Be Held on May 17 in Connecticut

GIANTS LIVE (www.giantslive.net/), an arena-based series of live strongman competitions, has been named the Official World's Strongest Man Qualifying Tour for 2009-2011. The first 2009 qualifying event will take place May 17 at the Mohegan Sun Casino Arena in Uncasville, Connecticut.

"We're totally pumped to have entered into an exclusive partnership to present one of the fastest-growing sports on the globe," said Mark Avery, CEO of AEG ThemeSTAR. "Our expertise in arena-based sports competition promises to deliver a unique entertainment experience - audiences will be truly amazed by incredible feats of strength on a scale that can only be presented in an arena setting."

"It takes a lot of muscle to find the World's Strongest Man, and I'm excited to be part of a powerful three-year collaboration among IMG Sports Media, AEG ThemeSTAR, Crystal Entertainment and Show Productions," said Colin Bryce, former strongman competitor, ex-Olympian and CEO of Show Productions. "Audiences who witness GIANTS LIVE will truly be seeing something unique in the world of strongman competitions."

Each GIANTS LIVE qualifying event will find 12 of the world's greatest strongmen battling for supremacy across six grueling disciplines including Truck Pull, Log Lift, Refrigerator Carry, The Pillars of Hercules, Car Deadlift and Atlas Stones. A top-three finish gains the competitor championship points and a place at the World's Strongest Man Finals.

The end of the GIANTS LIVE season will see the winner crowned "Giants of Strength World Champion." Past champions include five-time World's Strongest Man Mariusz Pudzianowski of Poland, America's Strongest Man Derek Poundstone, Britain's Strongest Man Terry Hollands and seven-time Sweden's Strongest Man Magnus Samuelsson.

The GIANTS LIVE tour will consist of a minimum of four qualifying events in 2009 and will grow to as many as 12 events by 2011. Each GIANTS LIVE qualifying event will be filmed for global television broadcast distribution and, where applicable, local broadcast.

Following the May 17 qualifying event in Connecticut, GIANTS LIVE will travel to Stavanger, Norway for an event on June 6. Additional qualifying events will be announced shortly.

We'll see you first you at the fibo strongman classic on this coming Saturday!