Giants Live-London: Tickets On Sale
If you want to compete on the World's Strongest Man show - the runaway leader of strongman contests - you know that you can get there through the official qualifying series, Giants Live, but even if you're King Kong, how do you get that all-important invitation?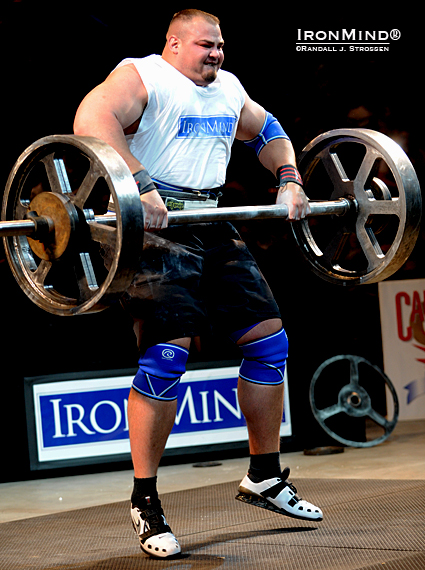 Strongman is the natural realm of big guys, and Brian Shaw, besides standing about 6' 8"tall and weighing over 400 lb., is very good at converting his skills to the sport's requirements. Shaw is on everyone's short list to win the 2011 World's Strongest Man contest—see him at Giants Live—London, along with such other top strongman competitors as Derek Poundstone, Terry Hollands, Laurence Shahlaei and Mark Felix. IronMind® | Randall J. Strossen photo.


Colin Bryce, head of the Giants Live strongman series, opened the doors to all comers and his offer did not go unheeded.

"Good news," Bryce told IronMind. "We have athletes coming from all over Europe to compete in the Saturday Pre-Qualifying contest on the 19th. If athletes or fans are up for it, here is what is on offer:

"The Pre-Qualifying event will start at 11 a.m. on the 19th [of March] at the Excel Arena, Docklands, London, with currently 35 men registered, but we can take a possible five more if any men feel they are up for the challenge.

"The events are:

1. Farmer's Walk: 40 m in 60 seconds with 140 kg
2. Log Press: 130-kg max reps in 60 seconds
3. Medley: 2 Barrels at 130 kg and 1 IronMind sack at 120 kg
4. Atlas Stones: 110 kg, 130 kg, 140 kg, 170 kg

"It was decided upon that these events when dealt with by a top strongman will be least fatiguing for the following day," said Bryce, which is when it's pedal to the metal time for all who want to assure themselves a spot at the 2011 World's Strongest Man contest.

"The top three stay on for the Sunday to fight against a stunning International line up including:

• Terry Hollands
• Derek Poundstone
• Brian Shaw
• Laurence Shahlaei
• Mark Felix
• Darren Sadler
• Alex Curletto
• Stefan Solvi Petursson
• Ricard Nort (Brazil's Strongest Man)
• Richard Skog is being replaced due to injury by Vytautas Lalas

"At the end of Sunday, three men are guaranteed a place at The Worlds Strongest Man Show," Bryce said. Notice the word "guaranteed," and remember that Giants Live is the only strongman series that serves as a qualifier for WSM."

"The Sunday's lineup includes:

1. Last Man Standing Strongman Deadlift: world record is 410 kg by Kevin Nee (straps allowed, normal bar)
2. Farmers Walk: 170 kg each hand for 40 meters
3. Axle: maximum weight
4. Dumbbell for reps: with 110 kg
5. Atlas Stones: finishing on a 210 kg
6. Loading: 2 x 130-kg barrels and 2 x 110-kg IronMind sacks

"To spice things up there are further cash bonuses for breaking the world record in the Deadlift and for the fastest time in the Medley.

"When you combine this with the first IFBB British Grand Prix of Bodybuilding, Arm Wrestling, World Class Powerlifting, Miss Fitness, the 'Amateur Olympia' Bodybuilding, World Class BMX displays and much more, it should be a great weekend. If that wasn't enough, the legend now known for his golden-coated dulcet tones, Svend 'Viking' Karlsen, is flying in to host the weekend as MC."

For more information, including ticket details, please visit http://www.grandprixexpo.co.uk.


###

Want to comment on this article or just want to talk strength? Join the IronMind Forum!

You can also follow IronMind on Twitter.