Giants Live: Jamming in June
"Giants Live is kicking into action in Finland with Grand Prix number two of the 2012 season on June 9 at Ideapark," Colin Bryce reported to IronMind.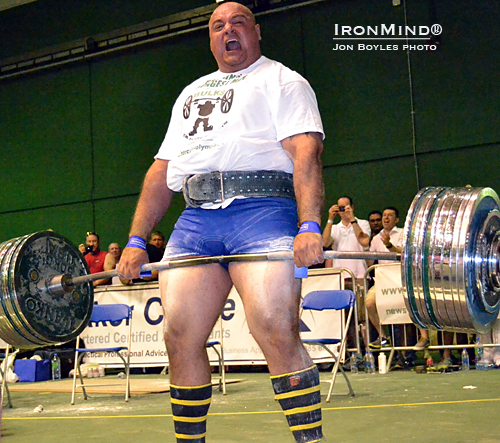 Laurence Shahlaei pulled this massive 432.5-kg deadlift on his way to winning the 2012 Britain's Strongest Man contest, where he narrowly edged out Terry Hollands (who also deadlifted 432.5 kg!). Shahlaei is starting at Giants Live–SCL Ideapark on June 9. IronMind® | Jon Boyles photo.


"We then go to Budapest, Hungary for the 17th and finish the month in Leeds, UK for the Europe's Strongest Man.

"The line up for Finland is looking very impressive,"said Bryce, who is the man behind Giants Live—The Official Qualifying Tour for the World's Strongest Man contest.

Here is the official start list:

Laurence Shahlaei (England)
Tomi Lotta (Finland)
Johannes Årsjo (Sweden)
Lauri Nami (Estonia)
Agris Kazelniks (Latvia)
Paul Pirjol (Romania)
Andrew Palmer (USA)
Juha Matti Jarvi (Finland)
Jarno Kirsela (Finland)
Warrick Brant (Australia)

Six events willl be featured:


• Crane Pull: arm-over-arm, 22 tons
• Truck Pull: harness and rope, 18 tons
• Viking Press: 165 kg, reps
• Yoke Race: 400 kg, pairs
• Wheelbarrow: 420 kg, pairs
• Forward Hold: 25 kg, pairs

"As ever," Bryce explained, "the top three will get invited directly to the World's Strongest Man 2012."

"The location for the event is Ideapark, in Lempaala, near Tampere City. It is an enormous shopping center—so a good crowd is guaranteed.

"This is the second year Giants Live have collaborated with the SCL producers Ilkka Kinnunen and Marcel Mostert. These two legends of the sport will be refereeing and help Giants Live present one of the biggest shows in Scandanavia this year," said Bryce.

###

The IronMind Forum: discuss this article, talk strength, get help with your training.

You can also follow IronMind on Twitter.