Giants Live Going Down Under
Power Productions UK Director Colin Bryce told IronMind, "I am doing a big show in Australia in March," which is a bit of understatement since this happens to be the season opener for Giants Live, the official qualifying tour for the World's Strongest Man contest.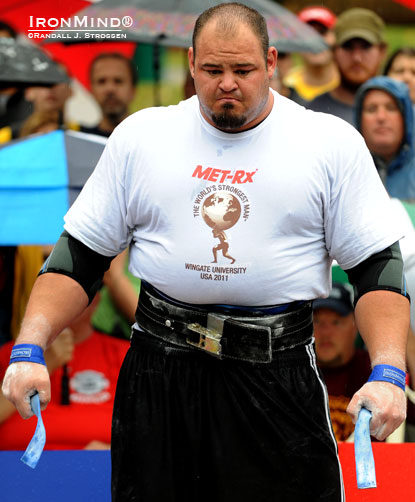 Not distracted by the rain or intimidated by the 442-kg deadlift at his feet, Brian Shaw psyches up at the 2011 World's Strongest Man contest. Colin Bryce calls Shaw, "the hottest property in the strength world," and you can see him in person at Giants Live in Melbourne, Australia on March 17–18. IronMind® | Randall J. Strossen photo.


"The Giants Live 2012 season is kicking off on March 17–18 in Melbourne's Exhibition Centre at the FitX, Australia's answer to the Arnolds and it is growing at an stunning rate. The entertainment on offer this year includes bodybuilding, powerlifting, fitness and hundreds of stalls and celebrities.

"I am very pleased to say the hottest property in the strength world, The 2011 World's Strongest Man winner, Brian Shaw will be fighting it out with nine other top athletes. As ever the top three will qualify for the Worlds Strongest Man show in 2012," Bryce said.

Here is the official start list:

• Brian Shaw - USA
• Mike Bourke - USA
• Nick Best - USA
• Eben Le Roux - Australia
• Frankie Scheun - South Africa
• Jeremy Hogg - New Zealand
• Jonathan Macfarlane - New Zealand
• Gerhard Van Staden - South Africa
• Derek Boyer - Australia
•1 more competitor TBD

Disciplines:

Saturday, March 17:
12:00 - Frame Carry: (360 kg for 30 m (15 m each way)
14:00 - Viking Press: 150 kg in each hand for reps (60 seconds)
16:00 - Loading: 5–7 m distance each way, to load drums on to platforms
20:00 - Deadlift: 330 kg for reps (38-cm bar)

Sunday, March 18:
13:30 - Hip Lift: details to be announced
15:45 - Engine Carry: (160 kg off the floor Hussafelt style)
16:30 - Awards Presentation

For full details and tickets, please visit www.fitx.com.au/ and www.giants-live.com; and keep your eye on the IronMind News for updates.
###


The IronMind Forum: discuss this article, talk strength, get help with your training. http://www.ironmind-forum.com/

You can also follow IronMind on Twitter. https://twitter.com/IronMind