Giants Live: Big 2011, More in Store in 2012
IronMind had a chance to chat with Giant's Live Colin Bryce about highlights of the 2011 season for the official qualifying tour of the World's Strongest Man contest—as well as getting a sneak preview of what's coming down the road next year.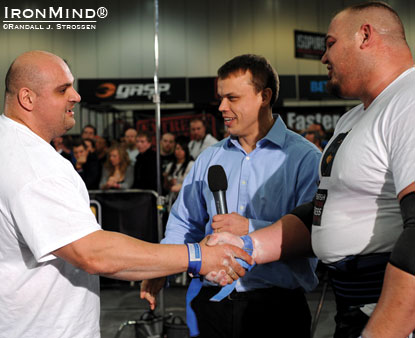 Shown flanked by Laurence Shahlaei (left) and Brian Shaw (right), Giants Live director Colin Bryce is never far from the center of the action in strongman. Laurence and Brian were minutes away from tying at 430-kg in the strongman deadlift at Giant Live–London earlier this year. IronMind® | Randall J. Strossen photo.



For starters, the 2011 Giants Live season included world records on some of the best known events, featuring some of the biggest names on the professional strongman circuit—all part of a worldwide expansion for Giants Live, as Bryce confirmed for IronMind.

"It has been a great season this year, with everyone from Big Z to Brian Shaw and Laurence Shahlaei setting world records in Apollon's Axle and the strongman-style deadlift.

"And for the first time ever we have had an athlete from South America. For the first time ever a big international strongman competition has taken place in Turkey. Moreover, Giants Live is very proud of the amazing 21 different countries sending athletes to its shows. So we would like to thank all the athletes for their marvelous support and efforts throughout the last twelve months. And a very big thanks to the growing network of promoters that have partnered with us as we put on our strongman shows worldwide," said Bryce.

Asked whether Giants Live would consider opening its doors to additional sponsors and promoters in 2012, Bryce said, yes, as he spelled out the primary requirements.

"With Giants Live as the official qualifying tour for the World's Strongest Man contest, we are looking to make the strongman world a bigger, richer, stronger and more entertaining place than ever, so if you have genuine abilities as a promoter or see strongman sponsorship as a vehicle for delivering your message to our target markets, you are welcomed to contact Giants Live with a summary of how you would like to become involved for next year."

Incidentally, Bryce confirmed that www.giants-live.com will be launched shortly, so watch IronMind for details.

###

The IronMind Forum: discuss this article, talk strength, get help with your training.

You can also follow IronMind on Twitter.