German National Weightlifting Coach Frank Mantek: "I Am Very Confident . . ."
Top German weightlifting coach Frank Mantek continues his articles for IronMind® News readers, and this month's column assesses his team's performance at the recent European Weightlifting Championships, both in itself and as a stepping stone to this year's World Weightlifting Championships and the 2012 Olympics.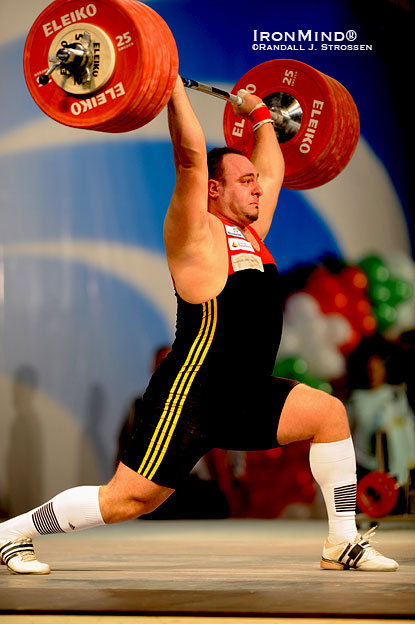 Almir Velagic, the 2009 German national champion in the snatch, stuck this personal record 235-kg clean and jerk at the European Weightlifting Championships two weeks ago. IronMind® | Randall J. Strossen photo.


Dear IronMind readers,

Now the European Championships in 2010 are a history and all partners know where they stand in preparation of the World Championships which will take place at the end of September in Antalya, Turkey. With one silver and two bronze medals we have won with our Olympic champion Matthias Steiner and his training companion Almir Velagic a total of 3 medals at the European Championships in Minsk.

In particular for Matthias Steiner this competition was a very important landmark within his career. After a one-and-a-half-year-old international competition break, this event was his first appearance after his spectacular Olympic victory of Peking 2008. If one compares the pure competition results of the Olympic Games (461 kg) and now in Minsk (426 kg), one could reach to the result that this appearance was to be called in the Belorussian metropolis relatively bad. I as his longstanding coach see this, nevertheless, a little bit different. Certainly not all wishes have come true for us in this competition; however, one can estimate quite realistically that this first appearance has delivered very important knowledge for our other work. Only now after the long training phase and the important end, the real competition, we have present condition about the abilities of this athlete.

This competition has delivered to us all that knowledge which we need for the coming preparatory phase. Therefore, in the analysis I would like to comment on three very important aspects.

1. We have fulfilled our uppermost aim with the profit of a medal in total and therefore have proved the other affiliation to the world class.

2. It has stepped obviously by days that we have currently clear deficits, in particular in the technical area in the snatch. 190 kg are not enough for a realistic fight for international titles.

3. Matthias has shown with his last attempt in clean & jerk (251 kg) that he still is in the situation to be fought for the gold medal. It is necessary for it that we gain control of his present deficits in the snatch.

The competition has also shown that Matthias Steiner in the determining phases of the competition still in the situation is to be grown after himself. If it is about "everything", his body and mind can perform unusual things. This ability distinguishes true champions and Matthias is whole without doubt one of this species.

Must succeed around at the end, whether to stand now to the World Championships these or the next year or to the Olympic Games 2012 in London again completely on top, it to us in being able to call away these qualities with all six attempts of a competition. We have not managed this currently.

Now we will begin after a short crossing the World Championship preparation level according. In contrast to the European Championships preparation we have planned again a lot of training camps beyond our home training center Leimen (considers not far from the present hometown of Matthias, Heidelberg). Beside traditional training camps within Germany, longer training phases are also planned in Paris, Madrid and Tenerife.

I am very confident that we will play a very important role at the end of September in Antalya, with the assignment of the medals again.

Finally I would still like to mention that also our second starter in the super heavyweight, Almir Velagic (he comes originally from Bosnia-Herzegovina), in Minsk with 425 kg again a new personal best performance has put up. After his vice European champion's title of the last year, he has succeeded with the third place in the snatch also this year again in winning a medal.

Keep to us the fingers crossed that everybody stays healthy.

Until the next column.
Yours,

Frank Mantek
Sports Director German Weightlifting Federation
German National Men's Coach