Georgian Strength Sports Update: Janashia Looks to Qualify for WSM 2015
"Hope this message will find you in good health. Just wanted to inform you about our last achievements in strength sports," Georgian Strongman Federation Vice President and Co-Founder Valeri Gulbani reported to IronMind today.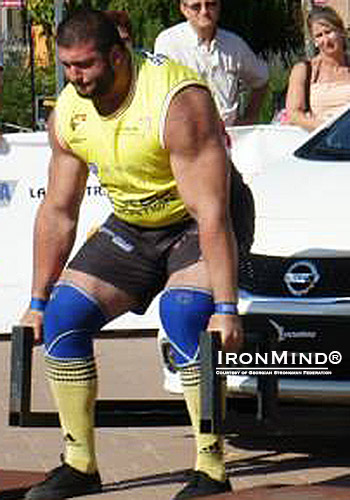 Konstantine Janashia (Georgia), shown on the Car Deadlift at Giants Live–Hungary, hopes to qualify for the 2015 World's Strongest Man contest. IronMind® | Courtesy of the Georgian Strongman Federation


"Member of Georgian Strongmen Federation and 2010-11-13-14 winner of Georgian Strongest Man, Konstantine Janashia took his debut in professional Strongman competition Giant Live in Hungary, Budapest. In a tough battle, he took 5th place and hope to gain an invitation to World's Strongest Man 2015."


Giants Live Hungary 2014
1. Jason Bergmann, USA, 59.5 (won 3 events)
2. Matjaz Belsak, SLO, 59.5
3. Eddie Hall, GBR, 56
4. Mike Caruso, USA, 44
5. Konstantine Janashia, GEO, 43.5

"Another member of Georgian Strongman Federation, Georgian and world record holder in the bench press in the 125-kg category participated for the first time in "Battle of Champions" Russia, Arkhangelsk. He was 4th and improved his own record (275.5 kg ) with a new record of 282.5 kg. Unfortunately, his last attempt to lift 287.5 kg was not done well done enough.

"The Georgian Strongmen Federation is proud on behalf of our athletes to be able show such high performance and is dedicated to go for medals in both competitions for the next time. This is just a start to unleash the GEORGIAN POWER! :) ."


Giants Live Director Colin Bryce told IronMind, "The top three men in each contest qualify for World's Strongest Man and we are seeing some brilliant new talent. Konstantine Janashia was an impressive young man and he would be a very likely wildcard when the time comes around to choose the competitors for next year's World's Strongest Man contest."

###



Want to talk strength? Join the IronMind Forum.

You can also follow IronMind on Twitter and on Facebook.