Georgi Asanidze Coming to the Arnold
2004 Olympic gold medalist Georgi Asanidze (Georgia) is coming to the Arnold as part of the invitational weightlifting exhibition that began in 2005 and is being expanded this year thanks to the direct support of Jim Lorimer.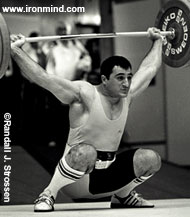 They might not say "cowboy up" in Georgia, but that's what they do: Instead of whining about his poor lockout, Georgi Asanidze (Georgia) snatched a world record 181 kg as an 85-kg lifter at the 2000 European Weightlifting Championships (Sofia, Bulgaria). IronMind® | Randall J. Strossen photo.
Georgi Asanidze - Olympic champion, world champion and European champion - is known around the weightlifting world as a tremendous snatcher who makes great lifts instead of big excuses, despite genuinely having lockout problems. Asanidze is part of the tremendous Georgian weightlifting legacy that includes three-time Olympic weightlifting champion Kakhi Kakhiashvili, their coach-extraordinaire Ivane Grikurovi, and rising star, Arsen Kasabiev.

If you have never seen world class weightlifting, you are in for a treat, and if you have, you need no further convincing: Georgi Asanidze at the Arnold, March 3-5 is a don't-miss event, so plan on joining IronMind® in welcoming him to Columbus, Ohio.

Please check the Arnold Sports Festival's website for full details. See you there!