GNC Grip Gauntlet at the FitExo
Think you have strong hands? Here's your chance to see how you stack up, while having a lot of fun at the same time.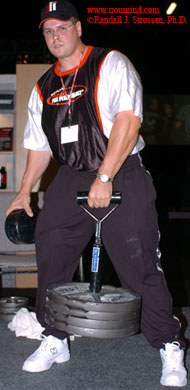 Air time in the grip world: Making it look easy, Wade Gillingham simultaneously hoists the Rolling Thunder and the Blob. IronMind® | Randall J. Strossen photo.

The GNC Grip Gauntlet uses three world standards for testing the major facets of grip strength: Captains of Crush® Grippers, the Rolling Thunder, and the venerable Blob, and to complete the gauntlet, you have to succeed with all three.

The man running the show, Wade Gillingham, told IronMind®, "The weight on the Rolling Thunder and the gripper used will be a last minute decision after I have had a chance to eye the crowd at the FitExpo. While the official GNC Grip Gauntlet has always been 212 pounds on the Rolling Thunder and a No. 3 Captains of Crush® Gripper, along with the infamous Blob, occasionally the GNC crew and I find it in our hearts to give smaller crowds a fighting chance by reducing the weight to 187 pounds on the Rolling Thunder and using a No. 2 Captains of Crush® Gripper; and if that isn't enough, we might even drop the normal requirement of three-for-three down to two out of three."

Winners get a $100 GNC gift card, and everyone has a good time, plus some free GNC samples, so be sure to stop by the GNC booth at the FitExpo this weekend and see how strong your hands really are.