GNC Grip Gauntlet at the Arnold Sports Festival
"The GNC Grip Gauntlet will be returning to Columbus, Ohio and the Arnold Sports Festival in a big way," grip star Wade Gillingham told IronMind® today.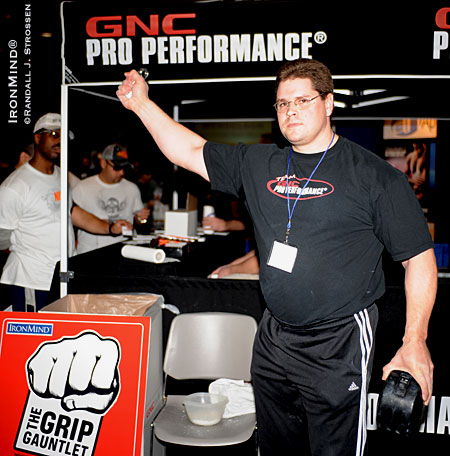 Wade Gillingham - master of the GNC Grip Gauntlet - will be giving you a chance to join the ranks of the grip world elite at the Arnold Sports Festival. IronMind® | Randall J. Strossen photo.


And in response to what seems to be a renewed interest by the grip community to try their hands at the prestigious GNC Grip Gauntlet, Wade Gillingham announced that the heavy version of the GNC Grip Gauntlet will be run this year - so if you've got what it takes, here's your chance to prove it.

"There are a number of monsters in the grip world coming [to the Arnold Sports Festival] this year and to serve them up something south of 200 pounds on the Rolling Thunder® and anything other than a No. 3 Captains of Crush® Gripper just seems wrong to me," Gillingham said.

It has been four years since the original weights of the three-event test of hand strength were contested, Gillingham confirmed for IronMind®, and in the three previous occasions that the heavy weights were used, only Wade Gillingham and Monte "Alpha Male" Brown were able to succeed at all three events. However, as a sign of just how far grip strength has progressed, partly due to the overwhelming success of the GNC Grip Gauntlet and the introduction of grip strength to thousands of people, last year, off to the side of the GNC stage, Tex Henderson quietly became the third man to ever complete the heavy version, and just last month professional strongman John Connor became the fourth.

"Grip strength is evolving," said Gillingham. "More people are trying it and like any sport, the bigger the sampling set of athletes, the more the sport will evolve in training and technique, with the results being bigger lifts. I can see a day in the not too distant future that a heavier blob will be needed, a No. 3.5 Captains of Crush® Gripper, and at least five plates on the Rolling Thunder®."

So if you think you've got a serious amount of grip strength or just want to have some fun seeing what you can do, stop by the GNC booth, say hi to the Gillingham brothers and give the GNC Grip Gauntlet a run for its money.