GNC Grip Gauntlet Opens 2008 Tour
It's considered the top dog in the world of grip contests - it's tough, fun and has a history unlike anything else in the field, so if you think you've got a pair of mighty strong mitts, and will be in the Los Angeles area in mid-February, plan to stop by the FitExpo and give the GNC Grip Gauntlet your best shot.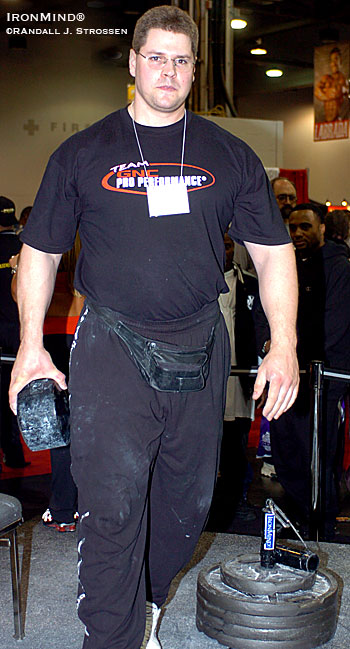 You can run, but you can't hide from the GNC Grip Gaunlet: If you've the grip, this is the contest that will allow you to prove it . . . Just for the fun of it, Wade Gillingham shows how easily he can walk a Blob - most really strong grip guys are happy if they can merely break one off the ground. IronMind® | Randall J. Strossen photo.

"For the past four years the GNC Grip Gauntlet has offered strong-handed individuals the opportunity to showcase their grip strength in a classical test of three types of hand strength: crushing, using the IronMind® Captains of Crush® No. 2 or No. 3 Gripper, supporting using either 187 or 212 pounds on the IronMind® Rolling Thunder®, and pinch gripping using the world famous Blob," explained Wade Gillingham.

Brutally simple, the GNC Grip Gauntlet was developed as grip master Wade Gillingham and IronMind®'s Randall Strossen discussed the best way to structure a legitimate grip contest, one that captured the three basic facets of grip strength - crushing, pinching and supporting - first promulgated by IronMind® in 1991, and that also used well-established, generally-available implements, and that could generate the history and competitor base required to produce meaningful results.

Speaking to its stature, Gillingham explained, "If you think this challenge isn't world class, think again. Over the past four years, an estimated 10,000 attempts have been made to complete the three challenges on the GNC Grip Gauntlet stage and only two individuals have ever completed all three in the 'heavy' format." One them was, "former NFL linebacker and current professional wrestler, Monte 'Alpha Male' Brown," said Gillingham, and the other is event's host on the GNC stage, Wade Gillingham, himself.

The GNC Grip Gauntlet kicks off its 2008 series in Los Angeles at the Ironman FitExpo February 15 -17, Wade Gillingham told IronMind®, and if you can't make the LA show, you've got two more chances to have fun and maybe establish yourself as one of the all-around great grip guys: Besides the FitExpo, "You can catch the GNC Grip Gauntlet at the Arnold Classic in Columbus, February 29 - March 2, and at the Mr. Olympia in Las Vegas, September 26 - 27," Gillingham said.