From Estonia to Giants Live–Finland: Next Stop, World's Strongest Man
With the 2011 MET-Rx World's Strongest Man contest looming large, the race is on for an invitation to what is not just great entertainment and bigtime TV, but is also considered to be the world championships of strongman.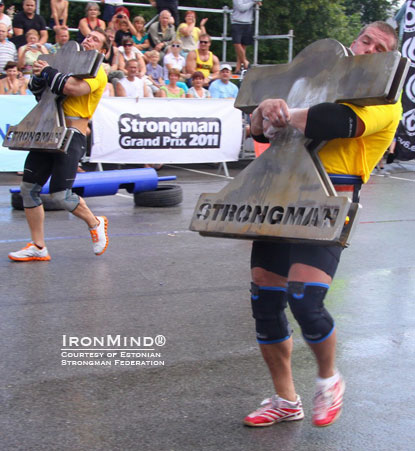 Rauno Heinla won in Estonia last weekend, which qualifies him for Giants Live–Finland, where a top-three finish nets an invitation to the 2011 MET-Rx World's Strongest Man contest. IronMind® | Photo courtesy of the Estonian Strongman Federation.


"Last Saturday, the Estonian Strongman Federation held the third stage www.rammumees.ee of their national series. The competition was also qualifier for the Finnish Giants Live competition," Strongman Champions League cofounder Ilkka Kinnunen told IronMind today.

Events were Truck Pull, Shield Walk, Deadlift for Reps, Frame Walk Log Medley and Stone Lift, and the competition was close until the end–as shown by the scores for the top five.

Overall results top 5:
| | | |
| --- | --- | --- |
| 1. | Rauno Heinla | 47.5 |
| 2. | Lauri Nami | 45.0 |
| 3. | Meelis Pungits | 42.0 |
| 4. | Markus Mannik | 34.0 |
| 5. | Meelis Peil | 34.0 |
"The winner, Rauno Heinla, showed that he earned his invitation to Finland," Kinnunen said.

And speaking of Giants Live–Finland, that will be the final qualifier for the 2011 MET-Rx World's Strongest Man contest: there are no more second chances this year, so watch for A-game performances from each competitor. "The preperations are going smoothly for the Giants Live–Finland and actually all is set for the event," Kinnunen assured strongman fans

"I would like to say that Giants Live is extremely excited to see the talent on show at Finland," Colin Bryce told IronMind today. Bryce runs the qualifying tour for the World's Strongest Man contest and is known for his keen understanding of strongman, from its history up through event design and TV production.

"It's a monster line up," Bryce said as he gave IronMind a quick rundown on who to expect in the final bid to makes this year's WSM show,

"We have heard Tommy Lotta is more than feeling his way out of retirement. He is the bigger, meaner, tougher version of Ivan Drago! It may even feel like a bit of a WSM 2003 reunion as Vidas Blakiatis is exploding back on to the world stage. Could three Lithuanians go to WSM? After their sweep at the World Log Lifting Champs it would be a fool who would write him off.

"Of course, it is a great chance for Espen Aune of Norway to prove his place for the WSM finals. He has lived in the rather enormous shadow of Richard Skog for a long time and I have heard great things about him from Svend Karlsen. And there are a number of other great athletes and characters coming as well.

"It is going to be a real pleasure being there and making an historic union of strength between Giants Live and the Strongman Champions League. Ilkka and of course Marcel have done a tremendous job of organizing this and I am extremely proud to call them my partners for this weekend and our commitment to build the professional sport together is stronger than ever.

###

The IronMind Forum: discuss this article, talk strength, get help with your training.

You can also follow IronMind on Twitter.