Frog Legs and Weightlifting
The frog-leg style in weightlifting came into vogue in the 1960s and in this month's Schmitz on the Lifts, three-time USA Olympic weightlifting team coach Jim Schmitz explains the technique.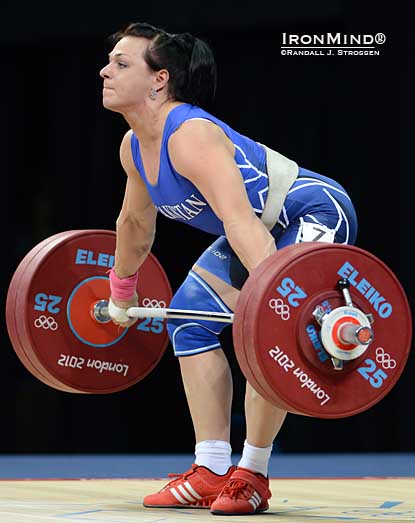 Svetlana Podobedova (Kazakhstan) launches this 126-kg snatch on her way to a dramatic win in the women's 75-kg category at the London Olympics. Note the position of her feet and her knees, illustrating the frog-leg style of pulling. IronMind® | Randall J. Strossen photo.


From the Articles button on the top of the IronMind homepage, go through the menu to Schmitz on the Lifts or click here to go directly to The Frog Leg Style.



### 



The IronMind Forum: discuss this article, talk strength, get help with your training.

You can also follow IronMind on Twitter.