Friesland Wins the Netherlands Versus Belgium Highland Games
The Netherlands competed against Belgium in a first ever Highland Games matchup last weekend, Francis Brebner reported on the action for IronMind.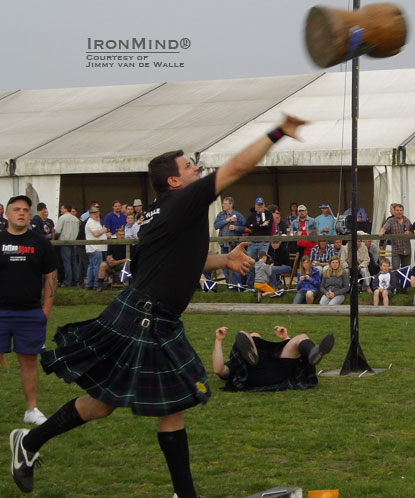 Jimmy van de Walle does the honors and if that's the cork, does the winner get the bottle? IronMind® | Photo courtesy of Jimmy van de Walle.


2011 Clash of the Lowlands
by Francis Brebner

This past weekend in the town of Zelzate, Belgium, more than a thousand spectators turned out in sunny weather to watch the first Netherlands–Belgium Highland Games of the season in the Clash of the Lowlands. Teams made up of three athletes from Holland, Friesland, Flanders, Germany, and France were invited to compete, and that mix really added to the spirit of the Games as the teams battled in five of the heavy events.

Jimmy van de Walle won the 22-lb. Braemar stone put with a distance of 37' 1/2". He followed that with a European amateur record distance of 29' 1/4" in the cork putt, which was sponsored by the French Champagne company Bouvet-Ladubay. French athlete Amine Amorun also established a new French record of 23' 5-1/2".

In the 16-lb. hammer Wietze Rosier of Friesland snatched the win from de Walle with a throw of 116' 10". The 28-lb. weight for distance was won by Belgian Bjorn Verbrugge with a throw of 73' 7-1/2", and the 42-lb. weight for height was taken by Holland's Johan Langhorst with a height of 18' 5".

In the final event, the 17-ft., 150-lb. caber, Pieter Karst Bouma (Friesland) took the honors with a 12:00 toss.

In the end it was team Friesland, from a province of the Netherlands, who triumphed over team Belgium, who had to settle for second place. Third place was team Holland, fourth team Germany, and fifth team France.

Jimmy van de Walle, who organised the Games in his hometown Zelzate, was very pleased with its success and plans to make this event even bigger in the future. The Games were judged by the well known Highland Games/strongman veteran Wout Zijlstra, along with Tommy de Bruijn.

###



The IronMind Forum: discuss this article, talk strength, get help with your training.

You can also follow IronMind on Twitter.