Franz Beil Wins in Nuernberg
"Franz Beil won his first international competition," said World Strongman Cup manager Martin Muhr, in what was described as a, "hard fight between him and Ralf Ber."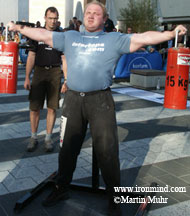 Franz Beil, doing the crucifix, on his way to winning the World Strongman Cup event in Nuernberg, Germany yesterday. IronMind® | Martin Muhr photo.

Set in Nuernberg, Germany, the contest left Muhr gushing: "Great weather, a perfect crowd of about 2500, and a German win in Germany!"

Final places and points are:

1. Franz Beil 45.5 points
2. Ralf Ber 41.5
3. Michael Starov 38
4. Tarmo Mitt 37
5. Raivis Vidzis 32
6. Slawomir Orzel 32
7. Grant Higa 28
8. Simon Flint 28
9. Oleg Dudkin 23.5
10. Florian Trimpl 23.5

Several of the athletes from this contest will be leaving this week, to compete in the upcoming World's Strongest Man contest, Muhr said.