Frank Mantek: "February Would Be Better"
Heidelberg–During a press conference yesterday, head German weightlifting coach Frank Mantek told reporters that injuries have worked against the preparation of his top weightlifters—including defending gold medalist Matthias Steiner—and that February would be a better date for the Olympics from his team's perspective.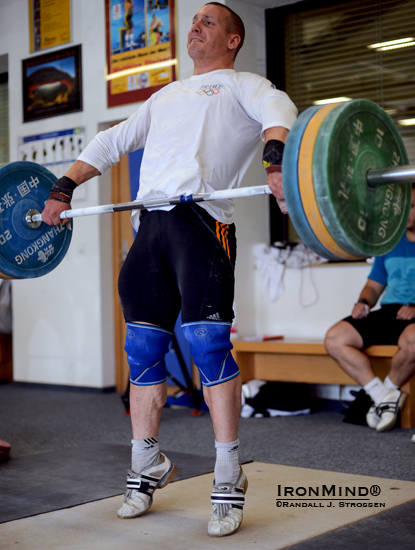 The top French weightlifters have been training alongside the German national team and will be participating today in the German Olympic Weightlifting Trials. This is Benjamin Henniquin, 85-kg silver medalist in the jerk and in the total at the 2011 World Weightlifting Championships. IronMind® | Randall J. Strossen photo.


Steiner's most recent challenge came two weeks ago when he left training on a stretcher as he had an injury which left him unable to straighten up. Intensive physical therapy followed and five days later he was back in training, but the remaining time until the London Olympics is short.

Still, Mantek says that his goal is to return from London with a medal. and with an eye to the future, the German team is already talking about its preparation for the 2020 Olympics.

###



Visit the IronMind Forum: talk strength, discuss this story. Strongman, grip, Highland Games, Olympic lifting, stones and more.

You can also follow IronMind on Twitter.