Francis Brebner and Mike Smith with MET-Rx at AAO Sports Experience Family Festival
Wal-Mart will be once again hosting the 2008 Arkansas Athletes Outreach (AAO) Sports Experience Family Festival, and Highland Games stars Francis Brebner and Mike Smith will be featured in the MET-Rx booth.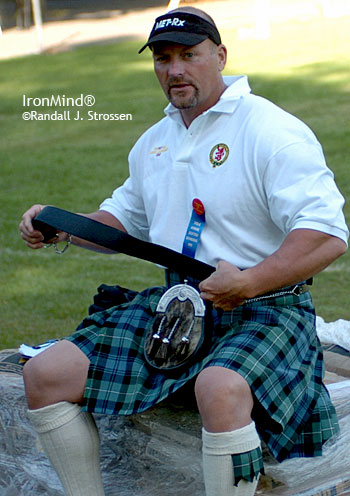 Francis Brebner, now retired from competition, remains active in the Highland Games. Brebner is a former SGA Highland Games world champion and he also won the IHGF World Games. Brebner won the World Caber Championships seven times; and he simultaneously held the world records in both the 28- and the 56-pound weight for distance. IronMind® | Randall J. Strossen photo.


The AAO Sports Experience showcases the benefits of fitness, sports and healthy lifestyles.

Teresa Hartle and Grace Grimes, event organizers for MET-Rx, will again feature Highland Games champions Francis Brebner (Scotland/California) and Mike Smith (Oklahoma) in this year's festival, of which MET-Rx is a major sponsor. These powerful Highland Games athletes will run a small competition for the attendees, in which they can win free MET-Rx products and gym bags. Last year MET-Rx did a crucifix challenge for time, which went over very well with the crowd; in fact, it was the most popular booth at the event last year! This year, there will be an added event, a wrist roller challenge.

The festival runs from 9:00 am to 5:00 pm in Fayetteville, Arkansas, this Saturday, October 11.