Fortissimus Rider: The Face of Strongman Hits the Road
"It took a while to find the trucking company that would sponsor Fortissimus' colors for a full month but it is now done," Fortissimus president Paul Ohl told IronMind®.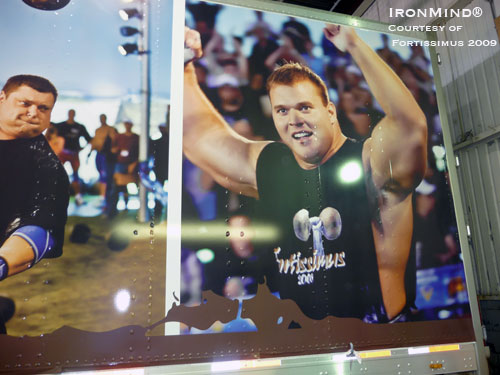 "Look at those guys!" Gilmyr Express Van Canada/USA will be carrying an extra load. IronMind® | Photo courtesy of Fortissimus 2009.


"Gilmyr Express Van Canada/USA will hit the highways with the faces of Zydrunas Savickas, Derek Poundstone and Canada's own Louis-Philippe Jean well in evidence," Ohl said. "This will look like a huge road trip for Fortissimus."

"Ideally, I would have liked to see three or four of these monsters going from the Atlantic to the Pacific with all 14 competitors featured on them, but we had to start with one and we made a comprehensive choice: the winner and runner-up of 2008 and the best Canadian," said Ohl. "In any event, the Fortissimus Rider will draw the attention wherever it will travel to."