Fortissimus Puts Strongmen Derek Poundstone and Travis Ortmayer in Rematch
Montmagny, Québec - Derek Poundstone did what he said he would at the Super Series Mohegan Sun Grand Prix, beating Mariusz Pudzianowski and winning the contest, and then Travis Ortmayer swept up the Super Series Madison Square Garden title, pushing Poundstone into second place in the process, so when these two guys hit the line at Fortissimus tomorrow, consider their matchup to be the contest within the contest.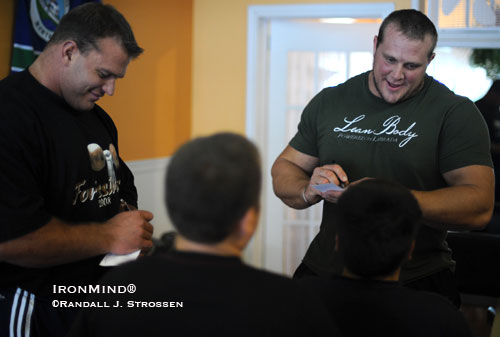 Derek Poundstone (left) and Travis Ortmayer (right) signed autographs this morning in Montmagny, Québec. IronMind® | Randall J. Strossen photo.

Derek Poundstone and Travis Ortmayer are flexing their muscles these days, not as bodybuilders throwing poses, but as strongmen showing that they are leading the way not just among the Americans, but also among the best in the world. First, though, it's between them.

"I'm finally hitting my stride," Derek Poundstone told IronMind®, explaining that the rivalry between him and Travis Ortmayer is so fierce that if this went on forever, "We would end up killing each other from pushing so hard."

Travis Ortmayer makes no bones about the competition between himself and Derek Poundstone: "The heat is on." Saying that he wishes all his competitors good luck and an injury-free competition, the man who says he's "the best stone lifter of all time," added his bottom line, "Watch out . . . this is my year."