Fortissimus Day One: Savickas, Poundstone, Murumets
Montmagny, Québec - It was seven hours, but the packed house stayed until the end, as Zydrunas Savickas and Derek Poundstone pulled ahead of the rest of the field in a strongman contest featuring some of the top names on the professional circuit.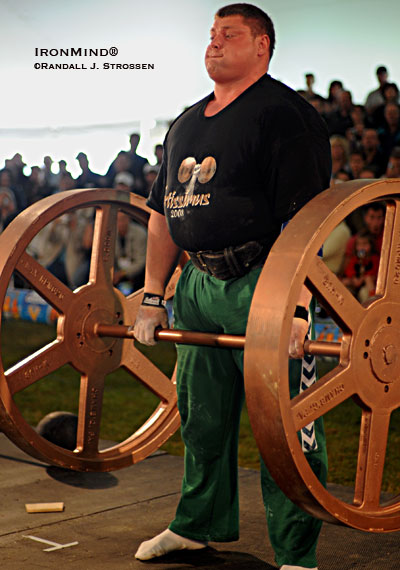 Zydrunas Savickas went into the lead on the first event, when he won the Sigmarrson Wheels deadlift. As another element in its traditional tone, rather than being held in a stadium, Fortissimus is being contested in a large tent pitched on a field in the small town of Notre Dame du Rosaire, Quebec. IronMind® | Randall J. Strossen photo.

After the first day, here are the top ten:

1. Zydrunas Savickas 59 points
2. Derek Poundstone 57.5
3. Andrus Murumets 45
4. Sebastian Wenta 43.75
5. Mikhail Koklyaev 38.5
6. Travis Ortmayer 36.5
7. Louis-Philippe Jean 35.5
8. Ervin Katona 31.5
9. Mark Felix 31
10. Stefan Solvi Peturrson 29.25

Although Zydrunas Savickas started and ended the day with the lead, Derek Poundstone pushed him hard every step of the way. "It's kind of funny that the heaviest guy and the lightest guy are in first and second place," Poundstone told IronMind®.

Poundstone had pulled himself equal in points with Zydrunas Savickas going into the last event today, and finished ahead of the big man on the Husafell stone, but then he lost ground on the power stairs, saying, "I was in a lot of pain - I kept hoping to hear the whistle."

Both Poundstone and Savickas are proving to be very popular with the fans, who remained enthusiastic throughout this marathon day of strongman competition - winning high praise from the competitors for their support.