Fortissimus Competitors: "The People Have Spoken"
The Fortissimus steering committee did something unprecedented in strongman, turning to the worldwide strongman community and asking for input on who should be invited to the contest . . . and as California Governor Arnold Schwarzenegger says, "The people have spoken."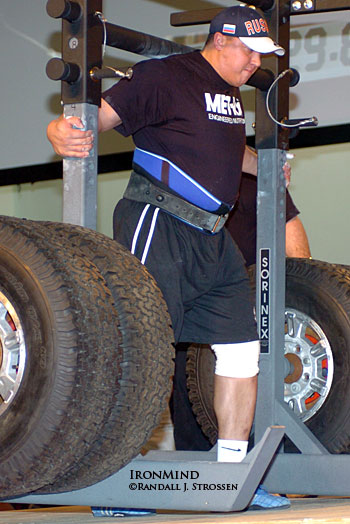 Misha Koklyaev - very popular and a top strongman - hit top numbers, along with Mariusz Pudzianowski and Zydrunas Savickas, in the worldwide poll on competitors for Fortissimus 2008. IronMind® | Randall J. Strossen, Ph.D. photo.

In descending order, here is the rank order of votes for top tiers:

Zydrunas Savickas, Mariusz Pudzianowski, Misha Koklyaev (tie)
Vasyl Virastyuck
Phil Pfister, Terry Hollands (tie)
Hugo Girard
Magnus Samuelsson
Andrus Murumets
Mark Felix
Sebastian Wenta
Derek Poundstone
Dave Ostlund
Travis Ortmayer
Vidas Blekaitis
Dominic Filiou

Fortissimus 2008 is creating tremendous interest in the strongman community and IronMind® will continue to follow and report on the major developments, so stay tuned.