Fortissimus 2008: Event Announcement is Near
Although "the Fortissimus 2008 Steering Committee has given approval to the ten events of the June competition and decided that the official release to the ten competitors" will be on March 11, IronMind® has been given some background information that should help competitors and fans alike understand the event list when it is released next week.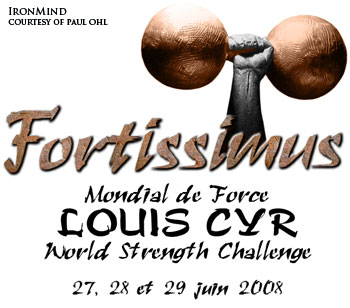 It has set a high standard for itself and there certainly is room in the strongman world for Fortissimus to do just what it would like: bring together and sort out the world's top strongmen. IronMind® | Logo courtesy of Paul Ohl.

First, the Fortissimus steering committee has explicitly disavowed the idea that they will be staging an old-fashioned strongman contest, whatever exactly that might be, and Paul Ohl told IronMind®, "The old-fashioned type was never an option. What we said right from the start was that we were developing a concept that would bridge the grass roots of strongman with the modern trends. And that we were committed in paying tribute to the deeds and times of Louis Cyr. We stood by that since. We also ruled out from the start certain events which we felt did not fit with the concept, such as the lorry [truck] pull."

Ohl explained that the event list was based on an analysis of past contests and comments from top strongmen, while also noting "the changing in the trends influenced by TV producing requirements." From there, Ohl said that, "If you want to measure ultimate strength output, you will not succeed by simply considering the heaviest load lifted in a single rep by one man. Even Louis Cyr came to admit this late in his life. At that rate, any world-class weightlifter or powerlifter will outclass the best of the strongman of today. So we took it from there and stated our case as such: strength reaches well beyond a single lift," and, accordingly, Fortissimus was designed as, "a decathlon of strength . . . ten events over two consecutive days."

Going further, Ohl said that, "Considering the non-release restriction, I can tell you this: three events will test overall body strength, two events will address overhead strength, two more will test dynamic power and stamina, while grip, explosive power and muscular resistance will be tested by one event each, yet with great emphasis. Distance will be a factor in four events," Ohl added. "In comparison, the 2008 Arnold Strongman Classic . . . will stand at barely 55 % of the actual overall strength testing value of Fortissimus."